Publication:
Correlation of Late Neoproterozoic sequences of the Eastern Pyrenees based on U-Pb (SHRIMP) zircon data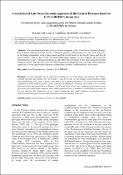 Files
Authors
Liesa Torre Marín, Montserrat
Navidad Fernández de la Cruz, Marina
Advisors (or tutors)
Editors
Publisher
Sociedad Geológica de España.
Abstract
New geochronological data from pre-Variscan igneous rocks of the Eastern Pyrenees (Canigó, Roc de Frausa and Cap de Creus massifs) confirm the presence of Neoproterozoic series in the Pyrenees, as the Balaig micaschists in the Canigó massif and the Lower Series in the Roc de Frausa and Cap de Creus massifs. That is, most of the pre-Upper Ordovician sequence in these massifs has to be Late Neoproteozoic in age. These geochronological data allow the correlation of the series along the Eastern Pyrenean massifs. The data also show two different ages (Late Neoproterozoic and Early Ordovician) and significance for the large bodies of granitic orthogneisses intruded at different levels in the series.
Se han obtenido nuevos datos geocronológicos en rocas ígneas pre-variscas del Pirineo oriental (macizos del Canigó, Roc de Frausa y Cap de Creus). Se han datado metavulcanitas ácidas interestratificadas en la serie y gneises que derivan de granitos prevariscos. Las rocas metavolcánicas confirman la edad neoproterozoica de los esquistos de Balaig en el macizo del Canigó y de las series inferiores de los macizos del Roc de Frausa y del Cap de Creus. Estos datos implican que la mayor parte de la serie pre-ordoviciana superior tiene edad neoproterozoica y permiten correlacionar las series de los tres macizos. Las dataciones en los gneises evidencian dos edades distintas (neoproterozoica y ordovícica inferior) para los protolitos intruidos en niveles distintos de la serie.
Collections