Publication:
Properties of Hα-selected star-forming galaxies from z ∼ 0.8 to now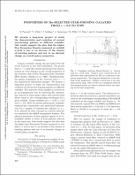 Advisors (or tutors)
Editors
Publisher
Instituto de Astronomía de la UNAM
Abstract
We present a long-term project to study the characteristics and evolution of current star-forming galaxies at different redshifts. Our results support the idea that the higher Star Formation Density measured at redshift z=0.24 is due to an increase of the density of bursting galaxies and not to an intrinsic change on overall galaxy properties.
Description
© 2005 Instituto de Astronomía, UNAM. International GTC Workshop - Science with GTC 1st-Light Instruments and the LMT (2nd. 2005. Mexico City/Mexico).
Collections