Publication:
Déficit en memoria implícita y explícita en demencias tipo Alzheimer y vasculares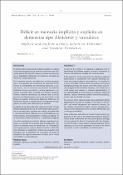 Files
Authors
Advisors (or tutors)
Editors
Abstract
El objetivo último del presente trabajo consiste en elaborar una prueba diagnóstica que permita discriminar entre diferentes grados de deterioro mnésico y facilitar la realización de un diagnóstico diferencial de pacientes afectados de Alzheimer y otras demencias. En el presente estudio, se realizó una primera aproximación a la evaluación del rendimiento de pacientes de Alzheimer, en comparación con demencias vasculares y sujetos control, en un conjunto de pruebas de memoria implícitas (priming conceptual y priming perceptivo) y explícitas (recuerdo libre, recuerdo con indicios, reconocimiento y memoria semántica), de carácter visual y sin exigencias de alfabetización previa. Se administró a tres grupos de sujetos: Enfermos de Alzheimer, Enfermos con Demencia Vascular y sujetos control. Los grupos se equipararon en edad, nivel intelectual y de estudios. El análisis de los datos obtenidos hasta el momento muestra efectos significativos del tipo de enfermedad sobre las pruebas de recuerdo libre, recuerdo con indicios, reconocimiento y memoria semántica. Mientras que en las pruebas de memoria implícita, priming perceptivo y priming conceptual, no se encontraron diferencias debido a la variabilidad intragrupo. Los datos preliminares permiten albergar esperanzas respecto a la bondad de la prueba para el diagnóstico diferencial de distintos tipos de demencias en comparación con el grupo control, aunque todavía no entre sí. Para ello, será necesario un diagnóstico médico más específico para proseguir con el desarrollo de la prueba, así como la adaptación de algunos elementos formales de la prueba que faciliten su administración. Abstract The aim of this article is to elaborate a diagnostic test to discriminate the different degrees of mnesic impairment in patients with Alzheimer disease and other dementia. A first approach to the assessment of Alzheimer patient's performance, in comparison with vascular dementia patients' and control subjects, was carried out. It consisted in a group of implicit memory tests (conceptual priming and perceptual priming) and explicit ones (free recall, cued recall, recognition and semantic memory). All of them had a visual design and needed no previous alphabetization. It was administrated to three groups of subjects: Alzheimer patients, Vascular Dementia patients and control subjects, equal in age and intellectual level. The analysis of the obtained data shows significant effects depending on the type of disease in the tests of free recall, cued recall, recognition and semantic memory. On the contrary, the tests of implicit memory, perceptual priming and conceptual priming do not show differences, due to intra-group variability. These preliminary data allow us cherish hopes towards the goodness of the test for the differential diagnosis between various types of dementia and the control group, although not yet among the former. To proceed with the development of the test, a more specific medical diagnosis will be necessary, as well as the adaptation of some of its formal procedures in order to facilitate the administration.
Collections