Publication:
Análisis de los factores que influyen en el proceso de creación de una cooperativa de trabajo asociado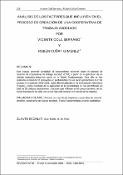 Advisors (or tutors)
Editors
Publisher
Facultad de Ciencias Económicas y Empresariales. Escuela de Estudios Cooperativos
Abstract
Este trabajo pretende contribuir al conocimiento existente sobre el proceso de creación de cooperativas de trabajo asociado (CTA) a partir de la aplicación de un método inductivo-deductivo como es la Teoría Fundamentada. Para ello se han realizado un total de 37 entrevistas en profundidad con los socios-promotores de CTA creadas en el periodo 2001-2002, todas ellas localizadas en la Comunidad Valenciana (España). Como resultado de la aplicación de la metodología se han identificado un total de 29 códigos substantivos o factores que influyen en el comportamiento de los socios fundadores en cada una de las fases del proceso de creación de la empresa.
This paper aims to contribute to existing knowledge related to the worker cooperative (CTA) creation process by studying the factors that influence the process using an inductive-deductive method: the Grounded Theory. For this reason, a total of 37 indepth interviews have been carried out with the founding members of worker cooperatives set up within the period of 2001-2002, all of which are located in the Valencian Community (Spain). As a consequence of the application of the methodology, we have identified a total of 29 codes or factors that influence the behaviour of the founding members in each of the stages involved in the process of the creation of CTA.
Citation
ALIANZA COOPERATIVA INTERNACIONAL. Los principios cooperativos del Siglo XXI". En: XXXI Congreso de la A.C.I, Declaración de la Alianza Cooperativa Internacional sobre la Identidad Cooperativa aprobada en Manchester. Manchester, 1995. CHENITZ W.C Y SWANSON J.M. From Practice to Grounded Theory. Menlo Park CA: Addison-Wesley Publishing, 1986. COYLE, I.T. Sampling in qualitative research: purposeful and theoretical sampling; merging or clear boundaries? Journal of Advanced Nursing, Vol. 26, 1997, pp: 623-630. CUÑAT, R.J. El proceso de creación de empresas desde la perspectiva estratégica: Diseño de un modelo de actuación para la creación de empresas cooperativas de trabajo asociado en el País Valenciano. Tesis doctoral no publicada. Facultad de Economía. Universidad de Valencia, 2005. DENZIN, N.K. Sociological Methods: a Source Book. Chicago:Aldine Publishing Company, 1970. DOUGLAS, D. Entrepreneurship research and Grounded Theory. Some methodological reflections. En: 3rd European conference on research methods in business and management. Reading University. United Kingdom. 29-30 April 2004. DOUGLAS, D. Grounded Theory and the "And" in Entrepreneurship Research. Electronic Journal of Business Research Methods, Vol. 2, 2004, pp: 59-68. ESTEBAN, J.; COLL, V. Y BLASCO, O.Mª. ¿Competitividad e innovación en la micro y pequeña empresa? Retos previos a superar. Estudios de Economía Aplicada, Vol.3, 2005, pp: 559-583. GLASER, B.G. Theoretical Sensitivity: Advances in the Methodology of Grounded Theory. California: Sociology Press, 1978. GLASER, B.G. Basics of grounded theory analysis: Emerge vs. Forcing. Mill Valley, CA: Sociology Press, 1992. GLASER, B.G. Y STRAUSS, A. The Discovery of Grounded Theory: strategies for qualitative research. New York: Aldine Publishing Company, 1967. GLASER, B.G. Constructivist Grounded Theory?. Forum: Qualitative Social Research [en línea], 3(3), 2002, [16 de noviembre de 2006]. Disponible en Internet: www.qualitativeresearch.net. GLASER, B.G. Naturalist Inquiry and Grounded Theory. Forum: Qualitative Social Research [en línea], 5(2), Art. 7, 2004, [16 de noviembre de 2006]. Disponible en Internet: www.qualitative-research.net. GOULDING, C. Grounded Theory: A practical Guide for Management, Business and Market Researchers. London:Sage Publications Ltd., 2002. MONZÓN, J.L.; GALÁN, J. Y GARCÍA, G. Las Grandes cifras del sector empresarial de la Economía Social Valenciana. Año 2003. IUDESCOOP. CIRIEC-España, 2004. RODRIGO, B. Empresas Excelentes de la Economía Social. CIRIEC-España, Vol. 19, 1995, pp. 43-53. STRAUSS A. Y CORBIN J. Basic of qualitative research: Grounded theory procedures and techniques. Newbury Park, CA: Sage Publications, 1990. STRAUSS, A. Y CORBIN, J. Grounded theory methodology: an overview. En: Denzin, N. y Lincoln, Y. (eds.) Strategies of qualitative inquiry. Thousands Oaks: Sage Publications, 1998, pp. 273-285. VECIANA, J.M. Empresario y proceso de creación de empresas. Revista Económica de Catalunya, nº 8, mayo-agosto, 1998. VECIANA, J.M. La creación de empresas. Un enfoque gerencial. Colección de Estudios Económicos Nº 33. Caja de Ahorros y Pensiones de Barcelona, Barcelona, 2005. Disponible en Internet: www.estudios.lacaixa.
Collections