Publication:
Espacio europeo de justicia: evolución y perspectivas en el sector del reconocimiento y ejecución de decisiones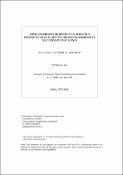 Authors
Advisors (or tutors)
Editors
Abstract
El sector del reconocimiento y ejecución de resoluciones en materia civil y mercantil se caracteriza en el ámbito comunitario por los significativos logros conseguidos y por hallarse en plena evolución. Pieza esencial de la transformación reciente ha sido la adopción de instrumentos que contemplan la ejecución intracomunitaria de resoluciones sin necesidad de exequátur. El modelo de supresión del exequátur instaurado en el Reglamento 805/2004, por el que se crea un título ejecutivo europeo, se basa en la eliminación de controles en el Estado requerido, que se trasladan al Estado de origen o se suprimen. Este planteamiento ha resultado especialmente controvertido en relación con la supresión del orden público y del control de las garantías procesales en el Estado requerido. De cara a la mejora de ese modelo podría resultar apropiado un enfoque respetuoso con la posibilidad de diferenciar entre la total supresión del procedimiento de exequátur y la presencia de ciertos controles específicos en la fase de ejecución en el Estado requerido, como de hecho sucede en el artículo 21 Reglamento 805/2004 con el control de la compatibilidad de la decisión que pretende ejecutarse con resoluciones anteriores. Clave en la evolución futura de la legislación comunitaria en la materia debe ser también la regulación del reconocimiento y ejecución de decisiones procedentes de terceros Estados. La capacidad de la Comunidad para llevar a cabo esa tarea y el impacto de la conclusión de convenios internacionales en la materia sobre las legislaciones de los Estados miembros y los convenios internacionales por ellos celebrados plantean cuestiones de especial interés. ---- Although mutual recognition of judgments in civil and commercial matters in the EU has achieved significant progress it is still a very dynamic field of the law. A key factor in its most recent evolution has been the enactment of EU measures that make possible the enforcement in all Member States of judgments given in another Member State without any special procedure to declare the foreign judgment enforceable. The abolition of exequatur of civil and commercial decisions according to the model of Regulation 805/2004 that creates a European enforcement order for uncontested claims is based on the suppression of all controls by the authorities of the Member State in which enforcement is sought. Such a model and its possible extension to other areas have become very controversial as regards the control of public policy and procedural guarantees. To improve that model it could be useful a better understanding of the distinction between the total abolition of an exequatur procedure and the possibility to establish certain specific controls in the framework of the enforcement procedure, as art. 21 Regulation 805/2004 already admits to ensure that the decision is not irreconcilable with an earlier judgment. Moreover, a key issue in the evolution of Community legislation in this area should be the establishment of uniform provisions on the recognition and enforcement of decisions adopted in third countries. The EU ability and resources to carry out such a demanding task and the coordination of the conclusión of internacional conventionsin in that field by the Community with the rules enacted in the Member States and internacional conventions concluded by them raise very interesting issues.
Collections