Publication:
El decadentismo en la derecha radical contemporánea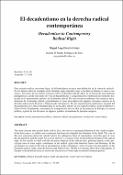 Advisors (or tutors)
Editors
Publisher
Universidad Complutense de Madrid
Abstract
Este artículo analiza, en primer lugar, la dificultad para alcanzar una definición de la «derecha radical». En los últimos años ha emergido en la literatura especializada lo que se ha dado en llamar el «nuevo consenso». El centro de ese nuevo consenso sobre la derecha radical radica en su forma de nacionalismo palingenésico, desde este punto de vista el decadentismo y la regeneración constituyen un elemento destacado en el pensamiento político de la derecha radical. En este artículo estudiamos las temáticas decadentistas de la derecha radical, especialmente el tono apocalíptico de algunos relevantes autores de ¡ la derecha radical en la Francia... (Ver más) y Alemania de entreguerras. En una segunda parte analizamos el papel ¡ del decadentismo en la obra contemporánea de destacados autores de ese espacio político, Alain de Benoist y Julius Evola. Finalmente, avanzamos la transposición de esa idea de decadencia de Europa a la arena política, a partir de los discursos de algunos partidos extremistas de derecha europeos.
The main concern this articles deals with is,first, the elusive conceptual definition of the «radical right».In the last years a, so called, new consensus, has been developed in the literature of this field. The core ofthis new consensus about the radical right is the palingentic form of nationalism, form this pant of viewthe decadentism and the claim for a social renewal is a central point in the political thought of the radicalright. In this article we deal with the decadent subjects of the radical right, pointing mainly to the apo-calyptic tone of some major contributors of the radical right in the interwar France and Germany. In thesecond part we analyze the role of decadentism in the cotemporary work of some relevant authors of theEuropean radical right, Alain de Benoist and Julius Evola. Finally we translate their idea of decadence ofEurope to the political arena as shown the discourses of some right extremist European parties.
Collections