Publication:
"Una cosa fea": VIH-SIDA y sistema de género entre los gitanos españoles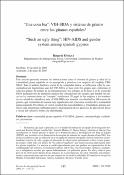 Authors
Advisors (or tutors)
Editors
Publisher
Universidad Complutense de Madrid
Abstract
Este artículo pretende mostrar las imbricaciones entre el sistema de género y edad de la comunidad gitana española en su percepción y prácticas con respecto al complejo VIHSIDA. Tras el análisis histórico social de la comunidad étnica, se reflexiona sobre la conceptualización hegemónica que del VIH-SIDA se hace entre los grupos que conforman el colectivo gitano. El estudio de la sintomatología y los estragos en lo físico y en lo social del SIDA declarado nos ha permitido analizar las concepciones del cuerpo, que hunden sus raíces en las construcciones de "cuerpos" subalternos. El papel de las mujeres y los hombres en su calidad de cuidadores ante el VIH-SIDA nos muestra con claridad las diferencias de género, que rearticulan de manera muy significativa las relaciones sociales de la comunidad gitana española. Por último, el vector social de las masculinidades y feminidades gitanas nos ofrece una plataforma espléndida para la investigación de los procesos de prevención física y social del colectivo frente a la enfermedad.
This article intends to show the interpenetration of the gender and age system of the spanish gipsy community with its perceptions and practices related to the HIV-AIDS complex. After a historical and social analysis of the gipsy ethnic community, the hegemonic conception that different groups among the gipsy population develop around HIV-AIDS is considered. The study of the symptoms and of the physical and social consequences of declared AIDS enabled us to analyse the conceptions of the body which have their roots in the construction of subaltern "bodies". The role of women and men as care givers when facing HIV-AIDS show very clearly how gender differences articulate, in a significant way, social relations within the spanish gipsy community. Finally, the social vector constituted by gipsy masculinities and femininities offers an excellent framework for research on the physical and social prevention processes the gipsies bring into play when facing disease.
Collections