Publication:
Valle de las Orquídeas: un yacimiento al aire libre del Pleistoceno Superior en la Sierra de Atapuerca (Burgos)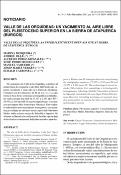 Advisors (or tutors)
Editors
Publisher
Consejo Superior de Investigaciones Científicas (CSIC)
Abstract
El yacimiento del Valle de las Orquídeas constituye el primer lugar de ocupación al aire libre del Pleistoceno superior, localizado y excavado en la Sierra de Atapuerca. Contamos con dos dataciones de TL en la terra-rossa que forma la base de las secuencias estratigráficas estudiadas, las cuales arrojan una edad de 27.507 ± 2.295 años BP y 29.955 ± 2.319 años BP. El registro arqueológico se restringe a un conjunto lítico formado por 306 piezas. Este conjunto industrial es tecnológicamente homogéneo y se caracteriza por reflejar un substrato técnico típico del Paleolítico Medio, unido a ciertos rasgos del Paleolítico Superior. No obstante, es llamativa la configuración de útiles, que se aleja de las técnicas comúnmente utilizadas en ambos periodos.
The site of Valle de las Orquídeas is the first Upper Pleistocene open-air locality excavated at Sierra de Atapuerca. We have two TL dates from the terra-rossa forming the stratigraphic sequences: 27,507 ± 2,295 years BP and 29,955 ± 2,319 years BP. The archaeological record includes 306 artefacts. This assemblage is technologically homogeneous, reflecting a Middle Palaeolithic technical background, associated with some Upper Palaeolithic features. However, retouching techniques are unusual, since they move further away from that often used during both technological periods.
Collections