Publication:
Reflexiones para mejorar la regulación y facilitar la aceptación de las cuotas participativas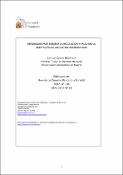 Advisors (or tutors)
Editors
Abstract
Las cuotas participativas han fracasado. Por lo tanto, es necesario reflexionar sobre los cauces para mejorar su regulación. The "cuotas participativas" (participating quotas) have failed. Then, it's necessary to think about the ways to improve their regulation.
Collections