Publication:
Televisión y violencia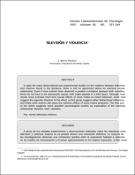 Authors
Advisors (or tutors)
Editors
Publisher
Fundación para el Avance de la Psicología
Abstract
A pesar de los múltiples experimentos y observaciones realizados sobre las relaciones entre television y violencia, todavía no es posible ofrecer una conclusión definitiva, La mayoría de las investigaciones observan una correlación positiva entre la exposición habitual a violencia en los medios de comunicación y el actuar agresivamente en los sujetos expuestos, si bien estas correlaciones no tienen porqué explicarse necesariamente en términos causales; ambas variables podrían depender de un tercer factor, responsable de su correlación. Aunque la mayoría de los los autores defiende que el possible influjo causal de los medios de comunicación sobre los comportamientos agresivo y antisocial en la vida real, esto solo se ha observado a corto plazo. Para otros, por el contrario, la causalidad se mostraría justo en dirección contraria: quienes prefieren ver más televisión y las escenas más violentas son los que se comportan más agresivamente. Y no faltan quienes apuntan más bien hacia una posible causalidad bidireccional entre ambas variables, o incluso quienes piensan en su efecto catártico. Concluimos sugiriendo algunos posibles modelos psicológicos podrían explicar las eventuales relaciones -causales o no-entre ambas variables.[ABSTRACT]In spite the many observational and experimental studies on the relations between televisión and violence found in the literature, there is still no agreement about an eventual causal relationship. Even if most authors have observed a positive correlation between both variables, these do not have to be necessarily causal; both might depend of a third factor. Although most results show eventual short term causal effects of mass media on violent behavior, some ones suggest the opposite direction of the effect, a third group suggest rather bidirectional influences, and finally other authors talk about the cathartic effects of some violent programs. The final part of the article suggests some possible psychological models as explanation of the eventual relationship between both variables.
Collections