Publication:
The Private International Law of Intellectual Property and of Unfair Commercial Practices: Coherence or Divergence?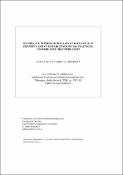 Authors
Advisors (or tutors)
Editors
Abstract
The interaction between IP rights and unfair competition as two distinct but closely related areas -that may provide alternative or complementary ways for protecting the same subject matter- raises significant issues for Private International Law. The rationale of the choice of law rules dealing with these two areas of the law are compared in the context of the current international and european developments. Changes in technology and the expansion of multi-state activities raise the need to review, beyond the EU context, certain connecting factors that make the laws of several countries applicable to activities aimed at a plurality of markets. Such a review poses similar challenges to choice of law rules on infringements of IP rights and acts of unfair competition, for instance when considering the development of specific rules for multi-state activities or infringements affecting many countries. Moreover, in that which concerns the impact on IP and unfair competition of the requirements arising from the functioning of the internal market, coincidences are observed, but important differences can also be found, for example, those having to do with the scope of mutual recognition and the origin principle. ------- Entre las infracciones de derechos de propiedad intelectual e industrial y ciertos actos de competencia desleal se observa una significativa semejanza en lo que respecta al tratamiento de DIPr. La transformación tecnológica y la expansión de las actividades con repercusión en un gran número de Estados imponen particulares exigencias de adaptación a ciertos criterios de conexión. Tales exigencias se proyectan de modo semejante sobre la territorialidad característica de los derechos de propiedad industrial e intelectual así como en relación con el criterio de los efectos en el mercado, básico en materia de competencia desleal. Especial atención recibe la interacción entre el criterio de los efectos en el mercado establecido en el Reglamento Roma II y el reconocimiento mutuo propio del mercado interior de particular trascendencia en el ámbito de la competencia desleal y que contrasta con la evolución en el sector de la propiedad intelectual. El análisis conjunto de las soluciones en materia de propiedad intelectual y competencia desleal permite poner de relieve algunas de las carencias, asociadas a su excesiva rigidez en la regulación actual en el seno de la UE.
Collections