Publication:
Sistema de evaluación de impacto ambiental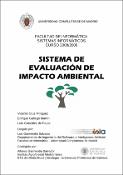 Advisors (or tutors)
Editors
Abstract
El objeto del proyecto consiste en la realización de un software para realizar un estudio del impacto que ocasionará la puesta en marcha de un proyecto, obra o actividad sobre el medio ambiente. A partir de este estudio se intentará predecir y evaluar las consecuencias que la ejecución de dichas actividades pueda ocasionar en el entorno en el que se localiza. El proyecto se basa en un entorno gráfico amigable que, previo análisis de las ventajas e inconvenientes de cada una de las opciones existentes, facilita la recopilación y análisis de los datos necesarios para definir los trazados de las diferentes alternativas del proyecto. Se pretende que la identificación y evaluación de los impactos sirva para escoger de manera óptima la alternativa de realización coherente y asumible de cara al medio ambiente. Además, se facilita la presentación de los datos del proceso y conclusiones obtenidas mediante la generación de informes detallados del proyecto en estudio. [ABSTRACT] The aim of this project is the execution of software to carry out a study about the impact that will occur with the starting up of a project, work or activity on the environment. Taking this study as a starting point we will try to predict and evaluate the consequences that the execution of these activities will cause in the environment in which it is located. The project is based in a friendly graphic environment which, thanks to a previous analyse of the advantages and the disadvantages of every current option, makes easier the recompilation and analyse of the necessary data to define the drawings of the different alternatives of the project. The identification and evaluation of the impacts is expected to be used for choosing the right alternative for the environment. Besides, the data presentation of the process and the achieved conclusions are provided through different detailed essays of the project under study.
Description
Trabajo de clase de la asignatura Sistemas Informáticos (Facultad de Informática, Curso 2008-2009)
Collections