Publication:
Utilidad de la ecografía pulmonar en el recién nacido prematuro con dificultad respiratoria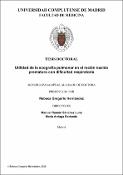 Files
Authors
Advisors (or tutors)
Editors
Publisher
Universidad Complutense de Madrid
Abstract
En los últimos años, la ecografía "point of care"; es decir, aquella realizada a pie de cama, por parte del médico responsable del paciente, que integra su información dentro de la historia clínica y la exploración física para la toma de decisiones, ha experimentado un gran desarrollo. Dentro de este concepto, la ecografía pulmonar es una herramienta ampliamente utilizada en el adulto, con una gran rentabilidad en el paciente con patología respiratoria de distinta etiología (cardiaca, pulmonar, traumática…). Sin embargo, en el recién nacido, ha sido poco empleada hasta ahora en la mayor parte de unidades neonatales pese a sus ventajas (rápida, sin radiación ionizante, repetible, barata, sin desplazamiento del paciente…). Aunque ya existe bibliografía que avala su utilidad en el recién nacido, su uso aún no está extendido en nuestro medio y la formación de los neonatólogos en dicha técnica es escasa. Objetivos: El objetivo principal del presente estudio es analizar la utilidad de la ecografía pulmonar precoz en las primeras 6 horas de vida como indicador de la posible necesidad de surfactante y/o ventilación mecánica en las primeras 72 horas de vida postnatal en una muestra de recién nacidos prematuros menores de 35 semanas de edad gestacional (EG) ingresados por dificultad respiratoria con soporte respiratorio no invasivo...
Point of care ultrasonography has been used for the last three decades integrated in the study of the critically ill adult patient. It is defined as the use of ultrasonography bedside by the clinician who incorporates its information to the physical exam and the medical history helping to patient management. In particular, lung ultrasound (LU) has demonstrated it usefulness in adult patients with respiratory distress related to different cardiac, lung or traumatic diseases. Despite its multiple strengths (no ionizing radiation, cheap, repeatable, performed quickly at bedside) and the rapidly growing literature supporting its usefulness in neonatal patients, it is still not a standard of care in many neonatal units and few neonatologists are trained in its use. Objectives: The aim of the study was to analize the predictive power of neonatologist´performed LU regarding the need of surfactant administration and/or invasive mechanical ventilation in a group of preterm infants less than 35 weeks gestational age (GA) on non invasive respiratory support because of respiratory distress after delivery...
Description
Tesis inédita de la Universidad Complutense de Madrid, Facultad de Medicina, leída el 04/02/2021
Collections