Publication:
Uso de dexmedetomidina en unidades de cuidados intensivos cardiológicos: estudio de eficacia y seguridad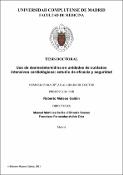 Files
Authors
Advisors (or tutors)
Editors
Publisher
Universidad Complutense de Madrid
Abstract
La dexmedetomidina es un fármaco agonista de los receptores alfa-2 adrenérgicos cuyas atractivas características farmacocinéticas y farmacodinámicas han potenciado su uso como agente sedante y analgésico. Su capacidad para inducir sedación consciente, de inicio y fin rápido, y sus efectos ansiolíticos, hipnóticos, analgésicos y órgano-protectores lo acercan al fármaco sedante ideal. Su uso en unidades de cuidados intensivos (UCI) ha demostrado reducir el uso de otros sedantes, tiempo bajo ventilación mecánica y duración de la estancia hospitalaria, además de prevenir y tratar de forma eficaz el delirium. El desarrollo de las unidades de cuidados intensivos cardiológicos (UCIC) ha generalizado el uso de fármacos sedantes en estas unidades, habituales en el enfermo crítico. El uso de dexmedetomidina supone un reto en las UCICs por la vulnerabilidad del paciente cardiológico agudo a sus principales efectos adversos, bradicardia e hipotensión, y la escasa experiencia y evidencia de uso en estos pacintes. La hipótesis principal de este trabajo es que el uso de dexmedetomidina es factible en el paciente cardiológico agudo, aportando múltiples beneficios al igual que aquellos demostrados en pacientes ingresados en UCIs. A pesar de la potencial vulnerabilidad a sus efectos adversos se ha descrito un buen perfil de seguridad en pacientes post-operados cardiacos. Esta tesis tiene como objetivo principal recabar información acerca del patrón de uso real de la dexmedetomidina en UCICs, así como distintos parámetros clínicos que permitan analizar la seguridad y eficacia del fármaco en estos pacientes. Como objetivos secundarios estarían conocer el perfil clínico de los pacientes candidatos a esta medicación en UCICs, las principales indicaciones del fármaco en estas unidades y el efecto de la dexmedetomidina en la incidencia del delirium...
Dexmedetomidine is an alfa-2 adrenergic receptor agonist whose attractive pharmacokinetic and pharmacodynamic characteristics have enhanced its use as sedative and analgesic drug. Its ability to induce semi-arousable sedation, rapid start and end of action, and its anxiolytic, hypnotic, analgesic and organ-protective effects become it the ideal sedative. Its use in intensive care units (ICU) have proved to reduce the use of others sedatives, time under mechanical ventilation and hospital admission length; also prevent and treat effectively delirium. The development of cardiac intensive care units (CICU) have widespread the use of sedatives on these units, usual in critical ill patients. Dexmedetomidine use means a challenge in CICUs, due to the potential vulnerability of cardiac critical ill patients to its adverse effects, bradycardia and hypotension, and the lack of experience and evidence among them. The main hypothesis of this work is that dexmedetomidine use is feasible in cardiac critical ill patients, providing several benefits as much as those demonstrated in ICU admitted patients. Despite of potential vulnerability of these patients to its adverse effects, a good safety profile have been described in post-surgical cardiac patients. The main goal of this thesis is to collect information about the real-world pattern of dexmedetomidine use at CICUs, which will allow the safety and efficacy analysis of the drug among these patients. As secondary objectives, clarify the clinical profile of CICUs dexmedetomidine candidates for its use, main indications of its use at CICUs and dexmedetomidine effect on the incidence of delirium...
Description
Tesis inédita de la Universidad Complutense de Madrid, Facultad de Medicina, leída el 11/01/2021
Collections