Publication:
Aplicaciones contemporáneas de la fisiología coronaria en distintos escenarios clínicos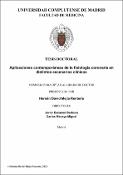 Files
Authors
Advisors (or tutors)
Editors
Publisher
Universidad Complutense de Madrid
Abstract
Aunque la angiografía coronaria es considerada el método de referencia en el estudio de la cardiopatía isquémica, es una técnica que no ofrece información precisa respecto a la repercusión fisiológica de las estenosis coronarias epicárdicas. En este contexto, el estudio invasivo fisiológico con la guía de presión permite determinar con alta precisión la repercusión isquémica de una estenosis coronaria, y es recomendada actualmente en las guías de práctica clínica para guiar la revascularización en estenosis de grado moderado o de severidad dudosa cuando no se dispone de métodos no invasivos de detección de isquemia. La reserva fraccional de flujo coronario (FFR) y el índice diastólico instantáneo sin ondas (iFR) son las dos técnicas con guía de presión más utilizadas en la actualidad, y se han consolidado en los últimos años como los métodos de referencia en los laboratorios de cardiología intervencionista para orientar las decisiones terapéuticas en la práctica clínica. Gracias a la dilatada evidencia científica que los soporta, ambos índices fisiológicos han alcanzando el grado máximo de recomendación en las últimas guías europeas de revascularización miocárdica. Aún así, existen todavía interrogantes de gran relevancia clínica pendientes de resolver, entre ellos su precisión y seguridad en determinados escenarios clínicos como la disfunción microcirculatoria coronaria (DMC) y el infarto agudo de miocardio (IAM)...
Although coronary angiography is considered the gold standard in the assessment of ischemic heart disease (IHD), this technique does not provide an accurate information regarding the true physiological relevance of moderate coronary stenosis. In this context, invasive physiological assessment with pressure wires allows an accurate functional stenosis evaluation, and its use is strongly endorsed by the current European clinical guidelines when non-invasive functional tests are not available. Fractional flow reserve (FFR) and instantaneous wave-free ratio (iFR) are the two most utilized pressure-wire techniques nowadays, both have been consolidated as the reference techniques for guiding revascularization of moderate and stable coronary lesions in the catheterization laboratories worldwide, and have achieved the highest level of recommendation in the last European guidelines on myocardial revascularization. However, although FFR and iFR have been shown to improve long-term clinical outcomes, there are still pending relevant clinical questions, including their accuracy and safety in certain clinical scenarios such as coronary microcirculatory dysfunction (CMD) and acute myocardial infarction (AMI)...
Description
Tesis inédita de la Universidad Complutense de Madrid, Facultad de Medicina, Departamento de Medicina, leída el 12/02/2021. Tesis formato europeo (compendio de artículos)
Collections