Publication:
Evaluación de un nuevo sustituto óseo basado en biovidrios mesoporosos suplementados con zinc, osteostatina y células mesenquimales para el tratamiento de defectos críticos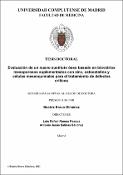 Files
Authors
Advisors (or tutors)
Editors
Publisher
Universidad Complutense de Madrid
Abstract
La regeneración ósea es un proceso continuo en el que la actividad osteoclástica (destructora) y la osteoblástica (formadora) se suceden de forma coordinada. El objetivo es que el hueso mejore su forma y arquitectura para cumplir con sus funciones como soporte mecánico. Un hueso debidamente remodelado sustituirá al original. Pero hay situaciones en las que la capacidad de reparación ósea se ve superada y se requiere una cantidad de regeneración tal que excede el propio potencial del tejido óseo. Estas situaciones se dan en los grandes defectos de huesos largos provocados por traumatismos de alta energía, por resecciones tumorales amplias, infecciones, aflojamientos protésicos o por el tratamiento de determinadas deformidades esqueléticas. En este campo y en los últimos años nuestro grupo de investigación ha desarrollado los vidrios mesoporosos bioactivos, biocerámicas más avanzadas que hemos elegido para nuestro proyecto por dos características diferenciales; generar la respuesta in vitro más rápida descrita por un biomaterial y presentar un alto volumen de poros para albergar moléculas osteogénicas. Simultáneamente a través de un equipo conjunto de investigación, se ha demostrado el gran potencial osteoinductor de la osteostatina (PTHrp 107-111) cuando se añade sobre una biocerámica, con ventajas sobre las BMPs. Si a ello le sumamos la acción de las células mesenquimales considerábamos fundamental el crear y probar en un modelo animal un nuevo biomaterial que incluyera tanto el vidrio mesoporoso como la osteostatina y las células, con el objetivo de sentar las bases en el desarrollo de un equivalente tisular que pueda llegar a utilizarse en clínica humana. Objetivo: Analizar la reparación ósea de un defecto crítico de conejo a nivel radiocubital a través de un análisis histológico y de imagen, tras implantar un equivalente óseo fabricado a partir del vidrio mesoporoso bioactivo 76%SiO2-15%CaO-5%P2O5-4%ZnO enriquecido con osteostatina y/o células mesenquimales...
Bone regeneration is a continuous process in which osteoclastic (destroying) and osteoblastic (forming) activities occur in a coordinated way. The objective for the bone is to improve its shape and architecture to fulfill its functions as a mechanical support. A properly remodeled bone will replace the original. But there are situations in which the bone repair capacity is exceeded and require an amount of regeneration that exceeds the bone tissue's own potential. These situations occur in large bone defects caused by high-energy trauma, extensive tumor resections, infections, prosthetic loosening or by the treatment of certain skeletal deformities. In this field, our research group has developed the most advanced bioactive mesoporous glasses, bioceramics that we have chosen for our project due to two differential characteristics; generate the fastest in vitro response described by a biomaterial and present a high volume of pores to house osteogenic molecules. Simultaneously, through a joint research team, they have demonstrated the great osteoinductive potential of osteostatin when added to a bioceramic, with advantages over BMPs. If we add the action of mesenchymal cells to this, we consider it essential to create and test a new biomaterial in an animal model that includes both glass and osteostatin and cells, with the aim of laying the foundations for the development of a tissue equivalent that can be used in humans. Objective: Analyze the bone repair of a critical rabbit defect at the radio-ulnar synostosis through histological and image analysis, after implanting a bone equivalent made from the bioactive mesoporous glass 76%SiO2-15%CaO-5%P2O5-4%ZnO enriched with osteostatin and / or mesenchymal cells...
Description
Tesis inédita de la Universidad Complutense de Madrid, Facultad de Medicina, Departamento de Cirugía, leída el 06/04/2021
Collections