Publication:
Características diferenciales de las principales vías de carcinogénesis en el cáncer colorrectal de aparición precoz según su localización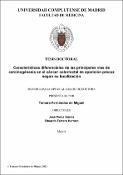 Files
Authors
Advisors (or tutors)
Editors
Publisher
Universidad Complutense de Madrid
Abstract
A nivel mundial el cáncer colorrectal (CCR) constituye la tercera neoplasia más frecuente y la segunda causa de muerte después del cáncer de pulmón. En 2018 se registraron 1,9 millones de casos nuevos de CCR y fallecieron alrededor de 900 mil personas. El riesgo de padecer CCR es mayor en países desarrollados, mientras las tasas más bajas se sitúan en países en vías de desarrollo. El CCR en el adulto joven, representa el 11% del total global del cáncer de colon y el 18% del cáncer de recto. La incidencia en este grupo de edad ha aumentado en las últimas décadas, comparada con la descrita para pacientes mayores de 49 años, en los que ha disminuido, junto con la mortalidad asociada. En Europa, aunque en la mayoría de los países la incidencia ha aumentado, existe una gran heterogeneidad. El modelo clásico adenoma- carcinoma ha ido evolucionando en los últimos años y cada vez se describe con más frecuencia el CCR según su fenotipo molecular. Hasta el momento se han descrito tres vías principales de carcinogénesis: la inestabilidad de microsatélites (IMS) o vía mutadora; la inestabilidad cromosómica (INC) o vía supresora, y la vía serrada o Fenotipo Metilador de islas (FM). Los tumores con IMS (10-15%), se pueden originar de dos formas diferentes: en las formas hereditarias como el Síndrome de Lynch (SL), cuya base molecular son mutaciones a nivel germinal; y en casos esporádicos, secundarios a la hipermetilación de MLH1. Estos se localizan preferentemente en el colon derecho, son indiferenciados, producen mucina y poseen un alto contenido de células en anillo de sello. La mayor parte de los tumores esporádicos (80%) se generan a través de la vía supresora, caracterizada por aneuploidía y alta frecuencia de pérdida de heterocigosidad (LOH). Estos tumores suelen localizarse en el colon izquierdo, son indiferenciados y se asocian a mutaciones germinales. La vía serrada ocurre hasta en el 35% de los CCR, son tumores característicos de mujeres, con alto grado de hipermetilación, indiferenciados y localizados en colon derecho. Las vías de carcinogénesis no son mutuamente excluyentes, existen solapamientos entre ellas, pero siempre habrá una vía dominante. Teniendo en cuenta esta premisa y las alteraciones genéticas y/o moleculares de CCR, se ha realizado una clasificación molecular con el objetivo de individualizar el tratamiento. Esta clasificación establece cuatro grupos diferenciados en función del estado de IMS y del FM. El CCR en el adulto joven suele asociarse a un peor pronóstico y posee unas características determinadas; fenotipo invasor, bajo grado de diferenciación, alto componente mucinoso, elevada frecuencia de tumores sincrónicos y/o metacrónicos y una mayor tendencia a la agregación familiar. En cuanto a su localización, no existe una opinión uniforme; unas series apuntan predilección por el lado izquierdo y otras por el derecho. OBJETIVOS: El objetivo principal de nuestro estudio es describir la características clínico-patológicas, familiares y moleculares del CCR en el adulto joven en función de las diferentes vías de carcinogénesis e identificar las características diferenciales teniendo en cuenta la localización tumoral. De esta forma estableceremos un mapa colónico que se resuman las características del CCR en el adulto joven en función de su localización...
Worldwide, colorectal cancer (CRC) is the third most common neoplasm and the second cause of death after lung cancer. In 2018, 1.9 million new cases of CRC were registered and around 900 thousand people died from it. The risk of suffering from CRC is higher in developed countries, while the lowest rates have been observed in developing countries. CRC in young adults represents approximately the 11% of the global colon cancer and 18% of rectal cancer. The incidence at this age group has increased in recent decades, compared to that described for patients over 49 years, in whom it has decreased. In Europe, although the incidence has increased in most countries, there is great heterogeneity between them. The classical model of the adenoma-carcinoma sequence has evolved in recent years and CRC is more frequently described according to molecular features. To date, three main pathways of carcinogenesis have been described: microsatellite instability (MSI) or suppressor pathway; the chromosomal instability (INC), or mutator pathway and the serrated pathway or the CPG Island Methylator Phenotype. Tumors with MSI (10-15%) could arise through two different pathways: hereditary forms such as Lynch Syndrome (SL), whose molecular basis are mutations at the germinal level; and sporadic cases, secondary to MLH1 hypermethylation. IMS tumors are preferentially located at the right side, and histologically they are undifferentiated, mucinous and they have a high percentage of signet cells. Most sporadic tumors (80%) are made through the suppressor pathway, characterized by aneuploidy and high frequency of loss of heterozygosity (LOH). These tumors are usually located in the left colon, they are undifferentiated, and they are associated with germline mutations. The serrated pathway occurs in up to 35% of CRC. This type of tumors, which are more frequent in women, are generally undifferentiated, located in the right colon and with a high degree of hypermethylation. Carcinogenesis pathways are not mutually exclusive, there are overlaps between them, but there will be a dominant one. Taking into account this assumption and the genetic and molecular alterations of CRC, a molecular classification has been made in order to individualize the treatment. This classification establishes four differentiated groups according to MSI and CIMP status. Early onset colorrectal cancer (EOCRC) is usually associated with worse prognosis and has specific characteristics: invasive phenotype, low degree of differentiation, high mucinous component, high frequency of synchronous and/or metachronous tumors and greater familial aggregation. As for their location, there is no consensus; some studies point to a preference for the left side and others for the right. OBJECTIVES: The aim of our study is to describe the clinical-pathological, familiar and molecular characteristics of CRC in young adults according to the different carcinogenesis pathways and to find out the distinct characteristics taking into account the tumour location. In this way we will establish a colonic map in which the characteristics of EOCRC are summarized according to their location...
Description
Tesis inédita de la Universidad Complutense de Madrid, Facultad de Medicina, Departamento de Cirugía, leída el 01/02/2021
Collections