Publication:
Análisis de la morbi-mortalidad de pacientes nonagenarios con fractura de cadera y elaboración de un plan de cuidados específicos durante la hospitalización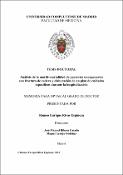 Files
Authors
Advisors (or tutors)
Editors
Publisher
Universidad Complutense de Madrid
Abstract
La fractura de cadera es una de las principales causas de morbimortalidad y deterioro funcional en el anciano, causando en muchas ocasiones un impacto negativo en la calidad de vida y con repercusiones clínicas importantes. La incidencia de fractura de cadera está en ascenso, observando como contrapartida al aumento de la esperanza de vida una mayor incidencia de patologías relacionadas a la edad, como la fragilidad ósea, lo cual predispone a más fracturas. En los últimos años, con el aumento de la esperanza de vida, se atienden cada vez más pacientes nonagenarios en las unidades de Ortogeriatría, lo cual conlleva un manejo más complejo, observando frecuentemente más complicaciones durante el ingreso respecto a otros pacientes en edad menos avanzada, lo que puede afectar a la demora quirúrgica, la estancia hospitalaria y el inicio de la recuperación funcional. En la actualidad, existen protocolos para la atención del paciente geriátrico en unidades de Ortogeriatría, que buscan disminuir la morbi-mortalidad tras haber sufrido una fractura de cadera, siendo pocos los descritos en la literatura respecto a pacientes nonagenarios, lo que abre el campo de la investigación para incluirlos en dichos estudios y observar si existen diferencias respecto a otros grupos etarios...
Hip fracture is one of the main causes of morbidity, mortality, and functional deterioration in the elderly, often causing a negative impact on quality of life and with important clinical repercussion. The incidence of hip fracture is on the rise, observing as a counterpart to the increasein life expectancy a higher incidence of age-related pathologies, such as bone fragility which predisposes to more fractures. In recent years, with the increase in life expectancy, more and more nonagenarian patients are being treated in the Orthopedics units, which entails a more complex management, frequently observing more complications during admission compared to other patients of geriatric age. Thismay affect surgical delay, hospital stay and the onset of functional recovery. Currently there are protocols for geriatric patient care in Orthopedics units that seek to reduce morbidity and mortality after having suffered a hip fracture, with few described in literature regarding nonagenarians, which opens the field of research to include them in these studies and see if there are differences with respect to other age groups...
Description
Tesis inédita de la Universidad Complutense de Madrid, Facultad de Medicina, leída el 05-07-2021
Collections