Publication:
Orfeo y el orfismo en las Dionisíacas de Nono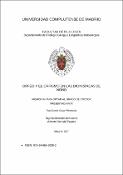 Files
Authors
Advisors (or tutors)
Editors
Publisher
Universidad Complutense de Madrid
Abstract
La tesis aborda la presencia y el valor de los elementos órficos en la epopeya Dionisíacas del poeta del siglo V d.C. Nono de Panópolis. Se trata en primer lugar del empleo del mito de Orfeo y de una tipología mítica similar en el poema, que evidencia el conocimiento por parte de Nono de la tradición que hace a Orfeo hijo de Eagro y Calíope, fundador de una religiosidad mistérica específica y, sobre todo, cantor y músico prodigioso, cuya habilidad linda con la magia en múltiples testimonios y que Nono transfiere a otros personajes. Después, se abordan las huellas de teogonías órficas en las Dionisíacas: el punto de partida es la consideración de los tres personajes llamados Dionisos que intervienen en el poema y del papel de cada uno, para tratar de dilucidar la relación entre ellos. La cuestión ilustra de forma representativa el esquema de relaciones e influjos mutuos entre el dionisismo, el orfismo y algunos de los aspectos más llamativos de la filosofía neoplatónica. Al igual que las tres corrientes poseen rasgos análogos entre sí, cada uno de los tres Dionisos asume características que lo acercan a los otros dos. Nono conoce los relatos órficos, pero para él la muerte del primer Dioniso carece de implicaciones antropológicas o soteriológicas. El poema no permite descartar del todo la pervivencia fáctica de rituales o creencias órficas, pero tampoco afirmarla con seguridad. Finalmente, se aborda el estudio de la magia en las Dionisíacas y de su relación con el orfismo: interesa la semejanza de los rituales descritos con los de las religiones mistéricas en general y la órfica en concreto, pero también el aprovechamiento de los rasgos mágicos del mito de Orfeo, aplicados a otros personajes que nada tienen que ver con él. The thesis approaches the presence and value of orphic elements in the epic poem Dionysiaca ascribed to Nonnus of Panopolis, who lived in the fifth century A.D. Its analyzed, first, the use of Orpheus myth and a similar mythical typology in the poem, whic shows Nonnus' knowledge of the tradition of Orpheus as son of Oiagrus and Calliope, founder of a specific mysteric religiosity and, mainly, prodigious singer and musician, whose ability borders on magic in multiple testimonies and which Nonnus transfers to other personages. After, the tracks of orphic theogonies in the Dionysiaca are examined. The starting point is to consider the three personages called Dionysus who take part in the poem, also each one's role is analyzed to try to explain the relationship among them. Three Dionysus' question illustrates the scheme of mutual relations and influences between dionysism, orphism and some of the most representative aspects of the neoplatonic philosophy. Like the three currents, each one of the three Dionysus assumes characteristics that approach each one to the other two. Nonnus knows the orphic poems, but for him, the death of the first Dionysus lacks anthropological or soteriological implications. The poem does not allow to absolutely discard the factual prevalence of orphic rituals or beliefs, but either to affirm them. We finalize with the study of magic in the Dionysiacas and its relation with orphism. It's important to pay attention to the similarity of the rituals described with those of mysteric religions in general and the orphic one in particular, but the thesis also deals on the magical characteristics from Orpheus' myth, applied to other personages who have nothing to do with him.
Description
Tesis de la Universidad Complutense de Madrid, Facultad de Filología, Departamento de Filología Griega y Lingüística Indoeuropea, leída el 21-11-2007
Collections