Publication:
La obra literaria de Eduardo Zamacois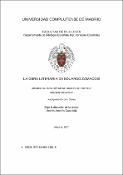 Files
Authors
Advisors (or tutors)
Editors
Publisher
Universidad Complutense de Madrid
Abstract
Estudio de la obra literaria de Eduardo Zamacois (1873-1971), autor de 120 obras, novelas largas, cortas, cuentos, obras teatrales, autobiográficas, libros de viajes y de crónicas, escritas entre 1893 y 1938, además de más de mil artículos periodísticos. El estudio de esta obra se hace desde la fijación y el análisis de todos los libros del autor. El trabajo se ha organizado de la siguiente manera: el primer capítulo, "Vida y literatura en Eduardo Zamacois", es una breve semblanza biográfica insistiendo en la estrecha relación que lo biográfico y lo literario tienen en Zamacois. En el capítulo II se aborda el estudio de su obra, empezando por dos apartados de carácter general. En el primero, "Un escritor en el cambio de siglo", se sitúa la obra y la figura del autor en el contexto literario de su época. En el segundo, "Zamacois, un profesional de la literatura", se exponen algunas consideraciones sobre su forma de escribir. A continuación viene el estudio detallado, por orden cronológico, de todas sus obras. Se estudian en apartados diferentes sus aportaciones a las colecciones de novela corta, lo que nos permite un acercamiento al estudio de ese fenómeno que supuso el renacimiento de un género a raíz de la fundación de El Cuento Semanal por Zamacois. A su obra teatral se le dedica otro apartado. Por último en este capítulo se dedica un apartado a sus libros de viajes, otro a las crónicas periodísticas y otro a los libros autobiográficos. En la Conclusión se señala la aportación de la obra estudiada al panorama literario español, sus valores más destacados, su posible trascendencia, su originalidad. Tras la Bibliografía en la que se reseñan todas las obras del autor, los estudios a él dedicados y obras de carácter general de ayuda para el estudio de su obra, se añade un Apéndice Gráfico en el que se recoge una amplia selección de las cubiertas con las que aparecieron los libros del autor.
A study of the literary works of Eduardo Zamacois (1873-1971), author of 120 works including novels, short stories, tales, plays, autobiographies, travel books and journalistic chronicles written between 1893 and 1938, apart from more than one thousand articles in newspapers. This study is made fixing and analysing all the books written by this author, and has been organized as follows: the first chapter, "Life and literature in Eduardo Zamacois", is a brief biographical sketch which emphasizes the close relation existing between biography and literature in Zamacois. The chapter II approaches the study of his works, separating it into two parts: " A writer between two centuries", the first one, places the author's work and person in the literary light of his time. The second part, "Zamacois, a professional of literature", presents some considerations about his literary style. The following chapters present an exhaustive chronological study of all his works. There are different sections for his contributions to the collections of short novel, which enables us an approach to the study of the phenomenon that meant the revival of a genre, due to the foundation of "El Cuento Semanal" by Eduardo Zamacois. His plays are studied in other separated section. Finally, the last three sections are dedicated to his travel books, his journalistic chronicles and his autobiographies. The Conclusion points out the contributions of these works to the Spanish literary scene, its most outstanding values, its originality. All the works of our author, the studies about him and the general works that can help in the study of his work are mentioned in the Bibliography and a Graphic Appendix collects a wide selection of the covers that the books of Eduardo Zamacois had when they appeared.
Description
Tesis de la Universidad Complutense de Madrid, Facultad de Filología, Departamento de Filología Española II (Literatura española), leída el 19-12-2007
Collections