Publication:
Crecimiento de cristales de celestina en gel de sílice. Transferencia de masa y criterios de cristalización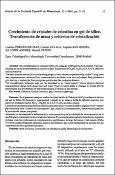 Advisors (or tutors)
Editors
Publisher
Sociedad Española de Mineralogía
Abstract
En el presente trabajo se analiza la cristalización de Celestina (SrSO,) mediante la técnica del gel de Sílice. El dispositivo experimental consistió en un sistema doble de difusión-reacción. Los reactivos empleados fueron SrCL, y N%S04 (0.5.0.3 y 0.1M. en ambos casos). La testificación experimental de la transferencia de masa y de la evolución del pH en el gel sirvió de vehículo para establecer unos "criterios de cristalización" que. unidos a la sobresaturación, han permitido justificar la posición del primer precipitado. Asimismo, se ha estudiado la influencia de la sobresaturación y de la velocidad de sobresaturación en la morfologíade crecimiento de los cristales de Celestina. El caracter de sistema abierto de la técnica empleada da lugar a que las condiciones de cristalización se modifiquen a lo largo del tiempo y del espacio. Dicha evolución queda reflejada en diferentes estadios morfológicos que se han interpretado de acuerdo con las características fisicoquímicas del medio.
The crystallization of celestine (SrSO,) by silica gel technique has been studied. The experimental &tup is adouble diffussion-reaction system. Solutions of SrCL, and Na.SO, (0.5.0.3 y 0.1M) were used as reactives. Themass-transfer and the pH evolution along the gel colurnn has been experimentally studied. Using these data, supersaturation vaiues and ions concentration at nucleation time were calculated. Both parameters give the key to explain the first precipitate position and the nucleation kinetics. The crystallization technique used can be described as an "open system" whose physico-chemical characteristics change both along time and space. Their evolution leads to changes in crystal growth mechanisms that fre reflected by the morphological evolution of the crystals.
Collections