Publication:
Petrographic evidence of different provenance in two alluvial fan systems (Palaeogene of the northern Tajo Basin, Spain)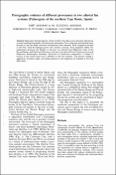 Advisors (or tutors)
Editors
Publisher
Geological Society of London
Abstract
Palaeogene detrital deposits of the northern Tajo Basin are coalescent alluvial fan systems interfingering distally with lacustrine carbonates. Non-carbonate extrabasinal clasts increase to the east while carbonate extrabasinal clasts decrease. Rock fragments increase to the west, while the feldspar/quartz ratio remains constant. Rock fragments define two sedimentary domains: the Iberian, in the east, was derived from Mesozoic rocks of the Iberian Range, and the Central System, to the west, was derived from Cretaceous cover and Palaeozoic metamorphic basement. Evolution of sandstone composition is related to erosion of the source areas and is different in the two domains. The tectonic setting is apparently "recycled orogen", providing calcareous rock fragments are included in the total lithic clasts.
Collections