Publication:
Estudio de polimorfismos genéticos como biomarcadores predictivos de la evolución del trasplante renal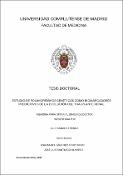 Files
Authors
Advisors (or tutors)
Editors
Publisher
Universidad Complutense de Madrid
Abstract
El trasplante renal sigue siendo a día de hoy el tratamiento de elección para la insuficiencia renal crónica terminal. Se ha demostrado que es mejor terapia sustitutiva que la diálisis y se relaciona de forma directa con el aumento la supervivencia en estos pacientes. Sin embargo, el trasplante del órgano induce en el receptor una reacción inmunológica llamada rechazo que deteriora el injerto y condiciona la calidad de vida del paciente. Para evitarlo es necesario administrar fármacos inmunosupresores que modulen la respuesta inmunológica preservando el órgano. Es indudable que durante las últimas décadas se han producido grandes avances tanto en el conocimiento del sistema inmunitario como en los tratamientos inmunosupresores que han conducido a una reducción de la incidencia de rechazo. Sin embargo, todos estos avances no han tenido el impacto esperado en la supervivencia del injerto a largo plazo...
Nowadays, kidney transplantation is still the treatment of choice for end-stage chronic kidney disease. It has proven to be the best replacement therapy for dialysis and it is directly related to increased survival rates in these patients. However, the transplantation of the organ causes in the receiver an immune reaction called "rejection" that deteriorates the graft and it conditions the patient's life quality. To avoid this, it is necessary to use immunosuppressive drugs that modulate the immune response while preserving the organ. There no doubt there has been a major progress both in the knowledge of the immune system and in immunosuppressive treatments during the last decade, which led to a lower rate of rejection's incident. Nevertheless, not all these progresses have had the expected impact on long-term allograft survival...
Description
Tesis inédita de la Universidad Complutense de Madrid, Facultad de Medicina, leída el 14-07-2021
Collections