Publication:
Grafos de vinculación semántica a partir del definiens del DUE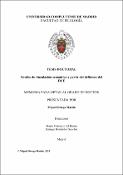 Files
Authors
Advisors (or tutors)
Editors
Publisher
Universidad Complutense de Madrid
Abstract
Este trabajo, titulado "Grafos de vinculación semántica a partir del definiens del DUE", explora la relación asociativa entre palabras mediante el uso de grafos para la investigación semántica, en especial, para la investigación de la analogía conceptual en semántica computacional, a partir de los algoritmos propios de la teoría de grafos y del procesamiento de las definiciones lexicográficas del Diccionario de Uso del Español de María Moliner (DUE) . El significado es un constructo mental compuesto por multitud de relaciones, fundamentalmente de naturaleza asociativa, marcadas por diferentes motivaciones a través del aprendizaje ofrecido por la experiencia. El diccionario, en este aspecto, representa un gran valor para el estudio del significado computacional, reflejando aquellas asociaciones compartidas por una comunidad de forma más o menos estable en el tiempo y de la manera más objetiva posible...
This work, entitled "Semantic linking graphs from the d efiniens of the DUE ", explores the associative relationship between words through the use of graphs for semantic research, in particular, for the investigation of conceptual analogy in computational semantics, based on the algorithms of graph theory and the processing of the lexicographic definitions from the María Moliner's Diccionario de Uso del Español (DUE). Meaning is a mental construct composed of a multitude of relationships, fundamentally of an associative nature, marked by different motivations through the learning offered by experience. The dictionary, in this aspect, represents a great value for the study of computational meaning, reflecting those associations shared by a community in a more or less stable way over time and as objectively as possible...
Description
Tesis inédita de la Universidad Complutense de Madrid, Facultad de Filología, leída el 20-07-2021
Collections