Publication:
La evolución del Derecho internacional privado comunitario en el Tratado de Ámsterdam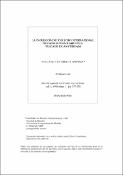 Authors
Advisors (or tutors)
Editors
Abstract
El potencial impacto del Tratado de Ámsterdam sobre la evolución del Derecho internacional privado comunitario exige analizar las normas que el nuevo Tratado introduce en el Tratado CE sobre la competencia de las instituciones comunitarias para adoptar instrumentos que uniformicen las normas sobre competencia judicial internacional, ley aplicable, reconocimiento de decisiones y cooperación judicial en el ámbito civil y mercantil. Para valorar el significado de esta transformación es relevante comparar el nuevo marco con la situación previa, en la que las instituciones comunitarias no hicieron uso de sus competencias relativas al mercado interior para adoptar instrumentos en materia de Derecho internacional privado. ---- The assessment of the potential impact of the Treaty of Amsterdam on the future development of Private International Law rules in the EC focuses on the new provisions introduced in the EC Treaty concerning the competence of the EC to adopt uniform rules on international jurisdiction, choice of law, recognition and enforcement of judgments and judicial cooperation in civil and commercial matters. The comment also compares the new rules with the previous situation in which the EC made no use of its competences concerning the internal market to enact Private International Law instruments.
Collections