Publication:
The δ̅ -approach to the dispersionless KP hierarchy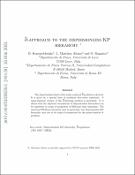 Advisors (or tutors)
Editors
Abstract
The dispersionless limit of the scalar nonlocal a-problem is derived. It is given by a special class of nonlinear first-order equations. A quasiclassical version of the partial derivative -dressing method is presented. It is shown that the algebraic formulation of dispersionless hierarchies can be expressed in terms of properties of Beltrami-type equations. The universal Whitham hierarchy and, in particular, the dispersionless KP hierarchy turn out to be rings of symmetries for the quasiclassical partial derivative -problem.
Description
©2001 IOP Publishing Ltd. L Martínez Alonso is partially supported by CICYT proyecto PB98–0821.
Citation
[1] Lebedev D and Manin Y 1979 Phys. Lett. A 74 154–6 [2] Zakharov V E 1980 Func. Anal. Pril. 14 89–98 Zakharov V E 1981 Physica D 3 193–202 [3] Lax P D and Levermore C D 1983 Commun. Pure Appl. Math. 36 253–90 Lax P D and Levermore C D 1983 Commun. Pure Appl. Math. 36 571–93 Lax P D and Levermore C D 1983 Commun. Pure Appl. Math. 36 809– 30 [4] Krichever I M 1988 Func. Anal. Pril. 22 37–52 [5] Kodama Y 1988 Phys. Lett. A 129 223–6 [6] Dubrovin B A and Novikov S P 1989 Russ. Math. Surv. 44 35–124 [7] Takasaki K and Takebe T 1992 Int. J. Mod. Phys. A suppl 1B 889–922 [8] Krichever I M 1994 Commun. Pure Appl. Math. 47 437–75 [9] Ercolani N M et al (ed) 1994 Singular Limits of Dispersive Waves (Nato ASI Series B Phys. vol 320) (New York: Plenum) [10] Takasasi K and Takebe T 1995 Rev. Math. Phys. 7 743–808 [11] Carroll R and Kodama Y 1995 J. Phys. A: Math. Gen. 28 6373–87 [12] Jin S, Levermore C D and McLaughlin D W 1999 Commun. Pure Appl. Math. 52 613–54 [13] Kamvissis S, McLaughlin K T-R and Miller P D 2000 Semiclassical soliton emsembles for the focusing nonlinear Schrödinger equation Preprint nlin. SI/0012034 [14] Krichever I M 1992 Commun. Math. Phys. 143 415– 29 [15] Dubrovin B A 1992 Commun. Math. Phys. 145 195– 207 [16] Aoyama S and Kodama Y 1996 Commun. Math. Phys. 182 185–219 [17] Kodama Y 1997 The Whitham equations for optical communications: mathematical theory of NR2 Preprint solv-int/9709012 [18] Wiegmann P B and Zabrodin A 2000 Commun. Math. Phys. 213 523–38 [19] Mineev-Weinstein M, Wiegmann P B and Zabrodin A 2000 Phys. Rev. Lett. 84 5106–9 [20] Geogdzhaev V V 1987 Teor. Mat. Fiz. 73 255–63 [21] Zakharov V E and Manakov S V 1985 Funct. Anal. Appl. 19 89–101 [22] Zakharov V E 1990 Inverse Problems in Action ed P S Sabatier (Berlin: Springer) [23] Konopelchenko B G 1993 Solitons in Multidimensions (Singapore: World Scientific) [24] Bers L 1977 Bull. Am. Math. Soc. 83 1083–1100 [25] Ahlfors L V 1966 Lectures on Quasi-Conformal Mappings (Princeton, NJ: Van Nostrand-Reinhold) [26] Vekua I N 1962 Generalized Analytic Functions (Oxford: Pergamon)
Collections