Publication:
Sostener el abismo. Notas sobre lo sublime lúdico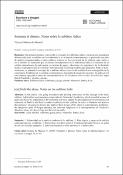 Authors
Advisors (or tutors)
Editors
Publisher
Universidad Complutense de Madrid
Abstract
Este artículo propone y desarrolla el concepto de sublimidad lúdica, trazando una genealogía diferenciada entre lo sublime en la modernidad y en el mundo contemporáneo, y aportando una serie de matices preposicionales o tonos estéticos propios en la experiencia de lo sublime: ante, sobre o en el abismo. Se sostendrá que la cultura contemporánea de la sublimidad lúdica es heredera de la estética nietzscheana, la cual aporta un carácter de juego y diversión a la experiencia de lo ilimitado frente a la presuposición de seriedad y solemnidad de la estética moderna que proponían Burke y Kant. Asimismo, se pensará el concepto de lo sublime lúdico a través del análisis de tres iconografías de la experiencia del abismo en la estética contemporánea: el deporte de riesgo del puenting, las gafas de sol con cristales espejados a modo de reinterpretación de El caminante sobre un mar de nubes de Caspar David Friedrich, y el selfie extremo.
In this article I am going to propose and develop some notes on the concept of the ludic sublime. I defend that contemporary culture inherits Nietzsche's Aesthetics, which provided a sense of game and fun to the experience of the unlimited and stood against the presupposition of seriousness and solemnity of Burke's and Kant's modern Aesthetics on the sublime. In order to illustrate and achieve this purpose I am going to present and analyse three images of the abyss in contemporary Aesthetics: the dangerous sport of bungee jumping, the mirrored sunglasses as a reinterpretation of Friedrich's Wanderer above the Sea of Foge and the extreme selfie.
Collections