Publication:
A multisite microcanonical updating method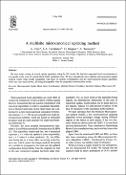 Advisors (or tutors)
Editors
Abstract
We have made a study of several update algorithms using the XY model. We find that sequential local overrelaxation is not ergodic at the scale of typical Monte Carlo simulation time. We have introduced a new multisite microcanonical update method, which yields results compatible with those of random overrelaxation and the microcanonical demon algorithm, which are very much slower, all being incompatible with the sequential overrelaxation results.
Description
© 1996 Published by Elsevier Science B.V. We wish to thank Juan J. Ruiz-Lorenzo for useful discussions. Partially supported by CICyT AEN93-0604-C03, AEN94-0218, AEN951284E, and ERBCHRXCT920051. D.I. is a MEC Fellow.
Collections