Publication:
Las invaginaciones dentarias. Estudio de 127 casos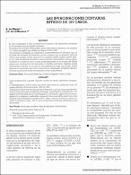 Advisors (or tutors)
Editors
Abstract
El dens invaginatus o dens in dente es un trastorno del desarrollo producido por la invaginación del epitelio dentario. Se realiza una revisión bibliográfica sobre este defecto dentario y se estudian 127 casos recogidos de la literatura desde 1949 a 1990. Se concluye que la anomalía se diagnostica preferentemente en jóvenes, que es el doble de frecuente en hombres que en mujeres, que no siempre provoca clínica, que aunque puede aparecer en cualquier diente la pieza que se afecta con más frecuencia es el incisivo lateral superior permanente, que es generalmente unilateral, que se sitúa preferentemente en la corona del diente siendo esta localización más frecuente en dientes anteriores, mientras que la localización radicular se da más en los posteriores, y que con el paso de los años en el tratamiento del dens invaginatus ha disminuido el número de exodoncias aumentando el de endodoncias y otros tratamientos. // Dens invaginatum is a growth disorder caused by dental epithelium invagination. A bibliography review about this tooth abnormality is performed and 127 cases collected of literature from 1949 to 1990. Conclusions show that the abnormality is detected in young people preferably, is twice more frequent in male than in female, sometimes is asimptomatic, can appear in every teeth but is more frequent in permanent upper lateral incisor, generally is unilateral, preferably appears in the crown of the teeth being this location more frequent in anterior tooth, while radicular location is more frequent in posterior teeth, and in dens invaginatus treatment extractions have decreased.
Collections