Publication:
The Great American Biotic Interchange revisited: a new perspective from the stable isotope record of Argentine Pampas fossil mammals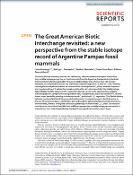 Advisors (or tutors)
Editors
Abstract
This study aims at assessing resource and habitat use, niche occupation and trophic interactions from a stable isotope perspective on fossil mammals from the Argentine Pampas during the Great American Biotic Interchange (GABI). We present stable isotope data of more than 400 samples belonging to 10 mammalian orders and spanning a temporal range from ~9.5 Ma to ~12 ky. Rodents, notoungulates and pilosians record an increase in the consumption of C4 plants, whereas litopterns and cingulates show δ13C values that remain mostly within a C3-dominated diet. Our stable isotope data indicates that the expansion of C4 vegetation opened up new niche opportunities, probably alleviating resource competition among endemic taxa. Gomphothere, equid and camelid δ13C records show a broad variability pointing to consumption of C3 and mixed C3-C4 vegetation. This flexible dietary behavior may have facilitated the successful settlement of immigrant groups in South America. In the case of carnivorous taxa, Late Miocene pre-GABI endemic sparassodonts consumed prey from C3 environments, whereas immigrant carnivorans preferred prey from mixed C3-C4 areas. Our research contributes to the study of the GABI from a different perspective as stable isotope records permit to characterize, from a (semi)quantitative standpoint, ecological traits within extinct fauna.
Collections