Publication:
Quaternary palaeoenvironmental changes in South Spain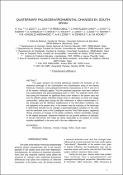 Advisors (or tutors)
Editors
Abstract
This paper presents the existing differences between the evolution of the Holocene landscape of the Southeastern and Southwestern areas of the Iberian Peninsula. Moreover, some palaeoenvironmental characteristics of OIS 4 and OIS 3 of the western Andalusia appear. The five presented sequences have been analyzed from palynological and geomorphological point of view. The obtained results show that during the Holocene no significant forest cover existed in the eastern area and that the different phases identified mainly show an alternation of shrub and steppe communities, taking place during the fifth millennium a radical transformation of the landscape and the definitive establishment of the semi-desert conditions that are registered at the present time. In the western area the evolution of the landscape is determined basically by the changes of geomorphological conditions of the coast and the marshland zones of the Guadalquivir and the Tinto-Odiel systems, registering diverse moments of increase of the aridity conditions, without remarkable changes in the vegetal landscape. Sequences obtained do not provide evidence of indicators of human intervention that might be clearly attributable to the pattern of human activities established in the area until a the two millennium ago.
Collections