Publication:
Cartografía de formaciones geológicas litológicamente similares en zonas llanas cultivadas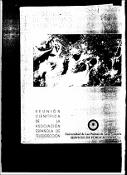 Advisors (or tutors)
Editors
Publisher
Universidad de las Palmas de Gran Canaria
Abstract
Los estudios espectrales de laboratorio en el visible y el infrarrojo cercano (400- 2500 nro) sobre muestras de rocas de distintas formaciones geológicas detríticas siliciclásticas en una cuenca sedimentaria terciaria, sugieren que la proporción de carbonatos y su composición, así como la de la fracción arcillosa y la presencia de óxidos e hidróxidos de hierro, es responsable de las sutiles diferencias en las respuestas espectrales de las mismas. La presencia de cemento carbonatado en areniscas y conglomerados con cantos metamórficos y de costras carbonatadas intrasedimentarias facilita la expresión de distintas unidades en imágenes. Dos alteraciones ferruginosas cronológicamente sucesivas pueden distinguirse en las imágenes superpuestas a los demás acontecimientos geológicos. [ABSTRACT] The presence of carbonate of different composition, clays and iron oxides and hydroxides are responsible for the subtle differences on the spectral response of various geological units of tertiary age lithologically homogeneous, shown by laboratory spectra in the visible and the nearinfrared. Carbonate cernent in sandstones and conglomerate with metamorphic boulders, and intrasedimentary carbonate crusts favour the express ion of different units on the imagery. Two chronological stages of late fron alteration can be distinguished overlying prior geological events.
Collections