Publication:
Advanced Care planning: a bibliographic review from the perspective of Social Work in Health Care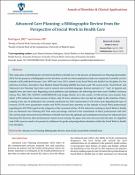 Advisors (or tutors)
Editors
Abstract
This study aims at identifying the role that Social Work in Health Care in the process of Advanced Care Planning (hereinafter ACP). For this purpose, a bibliographic review has been carried out whose population study was composed of scientific articles related to ACP, published between 1 Jan. 2009 and 1 Jan. 2019, related to the Social Work aria Health Care discipline. For the selection of articles, descriptors from Medical Subject Heading (MeSH) have been used. The search terms "Social Work" and "Advanced Care Planning" have been used in natural and controlled language. Boolean operators ("y" "and", in Spanish and English) have also been used. Regarding search platforms and databases, the following have been used: PubMed, Cochrane Library Plus, IME, CSIC, SCOPUS, OvidSPMEDLINE and Google Scholar. As to the results, 14,248 articles were located, from which 1,295 entered the review process of these, only 20 were selected as the rest did not adapt to the selection criteria. Looking at the year of publication, the scientific production for 2016 represented 27.2% of the total. Regarding the type of research, 45.4% were quantitative studies and 90.9% focused their attention on the attitude of Social Work professionals regarding the ACP. With regard to the categories of the reviewed articles, 45.4% referred to training in Social Work in Health Care on Advanced Care Planning ACP. That same percentage referred to the commitment of these professionals with ACP. The current study shows that Social Workers in Health Care have the aptitude and commitment necessary for Advanced Care Planning ACP. However, these professionals require more training. The paper also raises the issue that the topic of a dignified 'end of life' process needs to be present in syllabuses for grade and postgraduate education within the Social Work in Health Care discipline.
Collections