Publication:
A dynamic model of final service competition in fixed electronic communications under a capacity interconnection regime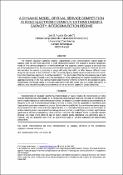 Files
Authors
Advisors (or tutors)
Editors
Publisher
Instituto Complutense de Análisis Económico. Universidad Complutense de Madrid
Abstract
The Spanish regulatory authority recently implemented a new interconnection regime based on capacity (and not per time) payments in fixed telecommunications. We propose a dynamic duopolistic model of final service competition in which the entrant first acquires a certain capacity at the local loop (at a fixed payment) from the incumbent and then both operators compete in prices for the final services. We introduce the entrant's possibility to assign efficiently the traffic he offer between different hours along the day as well as the possibility for him to use the capacity based model as well as the per-unit-oftime interconnection regime vis à vis the incumbent. The results show that, the simultaneous use of both interconnection models (instead of only the one based on time) leads always to tougher competition (more aggressive pricing) in the final service market and efficiency (internal to the firm and allocative) gains. Nevertheless, the entrant needs a minimum scale before this new model can be a viable alternative. In addition, once reached this scale, its convenience for the entrant will depend on certain conditions. Recientemente el regulador español ha implementado un nuevo modelo de interconexión en redes fijas de telecomunicaciones basado en la compra de capacidad que podrá ser utilizado en combinación con el modelo habitual de interconexión por tiempo. Se propone un modelo dinámico de competencia en duopolio en el cual el entrante puede comprar ex ante un cierto nivel de capacidad al incumbente para luego ambos operadores competir en precios. Se introduce la posibilidad de que el entrante pueda asignar eficientemente el tráfico entre distintas franjas horarias. Los resultados muestran que el uso simultáneo de ambos modelos genera una competencia más agresiva en precios y puede llegar a producir significativas ganancias de eficiencia (asignativa y otras internas a la firma). De cualquier forma, el entrante necesita alcanzar una masa crítica antes de que el nuevo modelo pueda representar una alternativa para él. Además, una vez alcanzado este nivel, su conveniencia para el entrante dependerá de determinadas condiciones.
Citation
CMT. Resolución sobre la modificación de la oferta de interconexión de referencia de Telefónica de España, S.A.U. Resolución del 9 de agosto de 2001 en el expediente MTZ 2001/4036. www.cmt.es. August 2001. Bijl, Paul de. Peitz, Martin. Competition and Regulation in Telecommunications Markets (Inform). CPB Netherlands Bureau for Economic Policy Analysis, The Hague, November 2000. Aguilar , José G. Evaluación de los efectos dinámicos de la introducción del modelo de Interconexión por Capacidad. Economía Industrial, 337. March 2002. Laffont, J.J. Llevando los principios a la práctica en teoría de la regulación (conference). Discussion text No 1. Centro de Estudios Económicos de la Regulación. Universidad Argentina de la Empresa. B.A., Argentina. March 1999. Allaz, B., Vila, J. Cournot Competition, Forward Markets and Efficiency. Journal of Economic Theory. February 1993. Press. La CMT obliga a Telefónica a bajar hasta un 40% los precios que cobra por usar su red. http://www.ganar.com/edicion/noticia/0,2458,45105,00.html. CMT. Oferta de Interconexión de Referencia de Telefónica de España, S.A.U. (OIR 2001) para operadores con licencia individual de tipo "A, B y C", con las modificaciones introducidas por la Resolución del Consejo de la CMT en su Sesión 29/01 de fecha de 9 agosto de 2001. www.cmt.es. August 2001. CMT. La CMT aprueba las modificaciones a la actual Oferta de Interconexión de Referencia Telefónica. www.cmt.es. August 2001. Laffont, J.J., P. Rey, and J. Tirole. Network competition: I. Overview and nondiscriminatory pricing. RAND Journal of Economics, Vol. 29, No. 1, 1-37. 1998a. Laffont, J.J., P. Rey, and J. Tirole. Network competition: II. Price discrimination. RAND Journal of Economics, Vol. 29, No. 1, 38-56. 1998b.