Publication:
Análisis e interpretación sedimentaria de la Formación de Nablanca (Eoceno, Zona Prebética)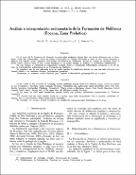 Advisors (or tutors)
Editors
Publisher
Consejo Superior de Investigaciones Científicas, Museo Nacional de Ciencias Naturales
Abstract
En el norte de la Provincia de Granada los materiales eocénicos afloran bajo dos facies diferentes que se denominan como dos Formaciones: facies de calizas (Formación de Cañada Hermosa) Y. hacia el Sur, facies margosas y lutíticas con algunas calizas detríticas intercaladas (Formación de N ahlanca), Existe un cambio de litofacies desde el Norte (facies calizas) hacia el Sur (facies margosas) y, al mismo tiempo, la potencia se incrementa notablemente. En este trabajo se estudiarán la composición, textura, fósiles y estructuras sedimentarias primarias, a fin de obtener la interpretación sedimentaria de la Formación de Nablanca. Se considera que la más adecuada sería un medio marino de plataforma abierta, con una marcada influencia continental debida a un ambiente deltaico fluviomarino (prodelta). Finalmente, se proponen varias hipótesis para explicar la distribución palaeogeográfica de la región.
In the North of the Province of Granada, eocenie materials outcrop under two different facies, vhich are named as two Formations: -limestone facies (Cañada Hermosa Formation) and, southwards, marly and lutitic facies with some detritic limestone interbedded (Nablanca Formation). There exists a lithofacies change from North (1imestone facies) towarss South (marly facies) and, at the same time, the thickness notably increases. In this paper, we shall study composition, texture, fossi1s and primary sedimentary interpretation of Nablanca Formation. We consider that the most suirtab1e would be a marine open shelf environment with a marked continental influence, due to a fluviomarine deltaic environment (prodelta). To conclude, we propose several hypothesis to explain the palaeogeographic distribution of the area.
Collections