Publication:
Dinámica litoral y evolución costera del puerto de Mazarrón (Murcia)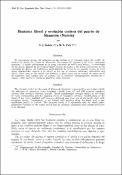 Advisors (or tutors)
Editors
Publisher
Real Sociedad Española de Historia Natural
Abstract
El retrabajado marino del sedimento de las ramblas es el elemento básico del modelo dinámico del litoral del Puerto de Mazarrón. Los oleajes del segundo y del tercer cuadrantes producen, al incidir oblicuamente en la costa, corrientes de deriva muy activas. La morfología de las playas depende de las irregularidades rocosas del litoral y del efecto contrapuesto de las corrientes de deríva. Al modificarse artificialmente la forma de un saliente rocoso, se crean zonas resguardadas, respecto a un oleaje, en las que se acumula sedimento, apareciendo una deriva litoral neta en ese sentido que erosiona la playa hasta que se alcanza un nuevo perfil de equilibrio. Este modelo está de acuerdo con la evolución paleogeográfica reciente de la región y debe tenerse en cuenta al planificar obras costeras. [ABSTRACT] The dynamic model for the coast of Puerto de Mazarrón us governed by waves that rework the sediments of ephemeral rivers (ramblas). Swells form S.F and SW generate longshove carrents that transport sediment actively. Beach morphologies strongly depend on the shape of rocky irregularities and the opposing effect of longshore currents. Modifications of the shape of any rocky heandland will achieve a sheltered zone from one of the swells where sedimentation occurs. Consequently a net litoral drift develops along the beach until a new equilibrium profile is reached. Te proposed model is in agreement with the recent paleogeographic evolution of the region and it trust be carefully considered when coastal works are to be planned.
Collections