Publication:
El Triásico de la región de Monterde-Alhama de Aragón (Provincia de Zaragoza)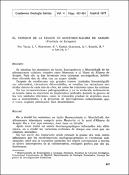 Files
Advisors (or tutors)
Editors
Publisher
Universidad Complutense de Madrid. Departamento de Estratigrafía
Abstract
Se estudian los materiales en facies Buntsandstein y Muschelkalk de los afloramientos triásicos situados entre Monterde y el Norte de Alhama de Aragón. Para ello se han levantado siete columnas estratigráficas, habiéndose obtenido dos de ellas con un mayor detalle. Después de establecerse seis grandes tramos (unidades litoestratigráficas informales), claramente diferenciables, se estudian las variaciones verticales dentro de cada uno de ellos, así como las relaciones entre los mismos. En las reconstrucciones paleogeográficas y en la evolución sedimentaria> se resalta tanto la existencia de importantes umbrales durante la génesis de las tres unidades inferiores, como la transición gradual de depósitos marinos a continentales, y la presencia de interrupciones sedimentarias que, a veces, originan paleosuelos bien desarrollados. [RÉSUMÉ] On a studié les materiaux en faciés Buntsandstein et Muschelkalk des afleurments triassiques compris entre Monterde et le nord d'Alhama de Aragón. On a levé sept colonnes, dont deux en détaille. Aprés avoir établi six unités litostratigraphiques informelles trés differentes, on a étudié les variations verticales de chaque une ainsi que ses relations mutuelles. On fait sortir des importants seuils pendant la genése des trois unités inferieures par les reconstructions paléogéographiques et l'evolution sédimentaire, ainsi que la transition paulatine des dépots continentaux a marins et divers interruptions de la sedimentation, soulignés parfois par des paleochenaux. [AB5TRACT] The Buntsandstein and Muschelkalk facies have been surveyed in the outcrops between Monterde and the North of Alhama de Aragón. Seven stratigraphic sections have been studied, two in greater detail. After stablishing six informal lithostratigraphical units, very different each other, thcir vertical variations are studied as well as their mutual relations. The palaeogeogi-aphic reconstructions and the sediníentary evolution point out the existence of several shoals during tSe genesis of tSe three lower units as well as tSe transition from continental to marine deposits and several sedimentary breaks, sometimes niarked by paleosoils.
Collections