Publication:
Groups of transformations of a G-structure which leave invariant a substructure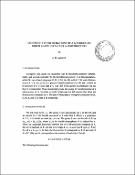 Advisors (or tutors)
Editors
Abstract
The author considers an m-dimensional manifold M, two closed subgroups G, H of GL(m;R) with G containing H, and a G-structure p:A!M. A Lie group of transformations of A is said to be inessential if there exists anH-structure B in A such that Aut(B). The aim of this paper is to impose conditions onM, G,H,A and so that is inessential.
Citation
D.J. ALEKSEVIKII Groups of conformal transformation in Riemannian spaces. Math. USSR Sbornik 18 285-301 (1972) G. HOCHSCHILD The structure of Lie groups. Holden-Day. San Francisco (1965) J.L. KOSZUL Lectures on fibre bundles and Differential Geometry. Tata Institute. Bombay (1965) R.S. PALAIS On the existence of slices for actions of non-compact Lie groups. ann. of Math. 73 295-323 (1961)
Collections