Publication:
La biozona Garantiana (Bajociense, Jurásico Medio) en la región de Tivenys-Sierra de Cardó (Tarragona)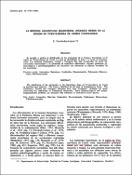 Advisors (or tutors)
Editors
Publisher
Consejo Superior de Investigaciones Científicas, Museo Nacional de Ciencias Naturales
Abstract
Se describe y analiza la distribución de los ammonites de la biozona Garantiana en la rcgión de Tivenys-Sierra de Cardó. La zona es identificada en base a la fauna de Garantianinae. Las subzonas Dichotoma, Trauthi y Tetragona han sido reconocidas. Se hacen observaciones concernientes a la tafonolDÍa de ammonites deformados. Algunos problemas paleoecológicos y paleobiogeográficos son discutidos con referencia al espectro faunístico de los ammonites. [ABSTRACT] The distribution of the ammonites in the Garantiana Zone of Tivenys-Sierra de Cardó is described and analyzed. The Zone is identified on the basis of Garantianinae fauna. The Dichotoma, Trauthi and Tetragona Subzones have been recognized. Remarks are made concerning the taphonomy of compressed ammonites. Some palaeoecological and palaeobiogeographical problems are discussed with reference to ammonoid faunal spectra.
Collections