Publication:
Neutron waveguides in neutron optics: Green's functions formalism with Dirichlet boundary conditions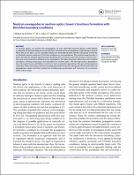 Advisors (or tutors)
Editors
Abstract
In neutron optics, we analyse the propagation of slow (thermal) neutrons along a semi-infinite waveguide limited by a large repulsive potential (reminding the propagation of light along an optical fibre). We set an ideal case of a straight empty two-dimensional semi-infinite waveguide limited by an infinitely repulsive potential (Dirichlet conditions on its boundaries). The neutron wave function is given through an integral representation involving the incoming wave with energyE, Green's function and certain functions defined on the boundaries. The latter functions follow from the Dirichlet conditions, thereby proposing a new formalism in neutron optics. We develop various approximations (through Fourier and Hilbert transforms) and numerical computations. We get: (a) the expected extinction of the incoming wave for very large penetration into the waveguide, (b) the generation of propagation modes and their number for suitably large penetration, asEincreases, (c) an estimate of the critical angle.
Description
© 2020 Informa UK Limited, trading as Taylor & Francis Group. We acknowledge Complutense University of Madrid (FECIEU-17-06), and Ministry of Science and Innovation (Project PGC2018-094684-B-C21) for financial support.
Collections