Publication:
Facies de canal, margen de canal e intercanal en turbiditas carbonatadas. Berriasense inferior. Ventana de Cabra del Santo Cristo. Cordilleras Béticas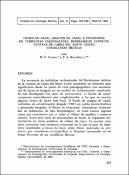 Authors
Advisors (or tutors)
Editors
Publisher
Servicio de Publicaciones de la Universidad Complutense de Madrid
Abstract
La secuencia de turbiditas carbonatadas del Berriasense inferior de la ventana de Cabra del Santo Cristo constituye un elemento muy significativo desde un punto de vista paleogeográfico. Las asociaciones de facies se integran en un modelo de sedimentación canalizado. Se han distinguido tres tipos de asociaciones: 1) Facies de canal: compuesta esencialmente por conglomerados a los que se asocian algunos lechos de facies más finas. 2) Facies de margen de canal: turbiditas de estratificación delgada (TBT) sin pelita interturbiditica y geometría irregular. 3) Facies de intercanal: calcarenitas intercaladas en sedimentos de tipo hemipelágico; en éstas existen algunas capas que constituyen por sí solas el relleno de amplios y someros canales. Estos tres tipos de asociaciones de facies se organizan verticalmente en ciclos positivos de relleno de canal. La sección completa constituye una secuencia recesional en la que se pasa de depósitos canalizados a facies de basin plain. Estos materiales se atribuyen, por correlación estratigráfica, al Dominio Intermedio de las Zonas Externas de las cordilleras Béticas.
The Lower Berriasian turbidite carbonate sequence into the Cabra Sto. Cristo tectonic window provide an outstanding reference of palaeoenvironmental significance. The facies associations can be fitted into a model of channeled submarine deposition. Three main facies associations occur: 1) channel-filí deposits: conglomerate facies overlain by finer grained and thinner bedded facies; 2) channelmargin facies: Thin-bedded turbidites with virtually no mudstone interbeds; 3) interchannel facies: Bundíes of interbedded mudstone/calcarenite included into mudstone units with broadiy channelized calcarenites. These beds are organized into repetitive positive cycles; the complete sequence forms a recessional suite grading from channelized deposits to basin plain turbidites. Attempts of -stratigraphic correlation are shown.
Collections