Publication:
Los materiales anteordovícicos del anticlinal de Navalpino (provincias de Badajoz y Ciudad Real, España Central)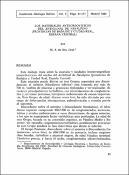 Authors
Advisors (or tutors)
Editors
Publisher
Servicio de Publicaciones de la Universidad Complutense de Madrid
Abstract
Este trabajo trata sobre la sucesión y unidades litoestratigráficas anteordovícicas del núcleo del Anticlinal de Navalpino (provincias de Badajoz y Ciudad Real, España Central). Esta sucesión puede divirse en tres Grupos separados por discordancias; el inferior (Alcudiense inferior) está formado por más de 700 m. visibles de pizarras y grauvacas replegadas y verticalizadas, de carácter principalmente turbidítico, con intercalaciones de conglomerados y, en zonas próximas, lentejones carbonatados de escasa importancia. Este Grupo, de edad rifeense sensu lato, ha sido afectado por una etapa de deformación sinesquistosa, paleoalteración y erosión previa al siguiente. Discordante sobre el anterior («Discordancia Oretánica»), el Alcudiense superior comprende 300-2.500 m. de conglomerados, areniscas, lutitas y niveles carbonatados a veces discontinuos, de aguas someras, a los que se superponen facies turbidíticas más profundas. La edad de este Grupo, basada en su contenido orgánico, es Véndico Medio y Superior. Un episodio conglomerático-turbidítico posiblemente precursor de este Grupo posdata la fase diastrófica que afectó al inferior. El Grupo Pusiense, discordante sobre el anterior («Discordancia Cadomiense» sensu lato), de 600-3000 m. de potencia, incluye megabrechas basales, turbiditas y pizarras negras, de edad Véndico terminal-Cámbrico precoz, y hacia el techo, conglomerados silíceo-fosfatados, arcosas y areniscas, estas últimas de edad cámbrica inferior. Estas facies someras son aparentemente extensivas hacia el 5W sobre el sustrato, desapareciendo por no deposición y/o erosión y discordancia preordovícica. Debido a la mezcla entre elementos paleontológicos «cámbricos» y «precámbricos» cabe la posibilidad de que el Pusiense se convierta en Piso límite entre el Cámbrico y el Véndico. Las relaciones entre estos Grupos sugieren ciclos sucesivamente reactivados (a veces abortados) de fracturación-relleno turbidítico-extensión de facies someras, que están de acuerdo con una evolución palco-geográfica de tipo aulacogénico desarrollada en un modelo dístensivo postgrenvilliense de tectónica de placas. Uno de los episodios más importantes dentro de esta evolución corresponde a la fase diastrófica que es sellada por la Discordancia Oretánica.
This paper deals with the preordovician sequence and litostratigraphic units of the Navalpino Anticline core (Badajoz and Ciudad Real provinces, Central Spain). This succession can be divided into three Groups, separated by unconformities; the lower one named «Lower Alcudian Group» is composed by over 700 m. of refolded and verticalised siates and greywackes of mainly turbiditie character, with íntervening conglomerates and verv scarce carbonate lenticles in neighbouring zones. Its age is broadly Riffean, and has been affected by a synschistous deformation phase, paleoweathering and erosion, prior to the next Group. The 300-2.500 m. thick «Upper Alcudian Group» lies unconformably («Oretanic Unconformity») over the Lower Alcudian, and comprises shallow water conglomerates, sandstones, shales and often discontinuous carbonate levels, overlain by deeper turbidite facies. The age of this Group, based on its paleontologic content, is middle and lipper Vendian. A possibly forerunner conglomeratic-turbiditic episode postdates the diastrophic phase concerning the Lower Alcudian. The 600-3.000 m. thick «Pusan Group» lies unconformably (sensu lato: «Cadomian Unconformity») over the Upper Alcudian. This Group includes basal megabreccías, turbidites and black shales of Late Vendian — Eariy Cambrian age and, towards the top, siliceous — phosphatic conglomerates, arkoses ami sandstones, the last ones of Lower Cambrian age. These shallow water facies seemingly extensive overlap southwestwards the substratum, dissapearing by non deposition and/or preordovician erosion and unconformity. The possibilivy that the Pu San becomes boundary Stage between Cambrian and Vendian must be envisaged, because the mixture of paleontologic «cambrian» and «precambrian» clements. The relationships between these Groups suggest successively reactivated cycles (often aborted) of faulting-turbidite inhlling-extension of shallow water facies, according to a paleogeographic aulacogen-type evolution developed in a post-grenvillian distensive Plate-Tectonics model. One of the most important events during this evolution corresponds to the diastrophic phase sealed by the Oretanic Unconformity.
Collections