Publication:
La transgresión del Cretácico superior en el sector de Atienza-Sigüenza (Guadalajara, Cordillera Ibérica) y el significado de la fauna ammonitífera.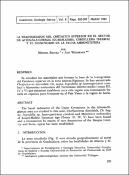 Authors
Advisors (or tutors)
Editors
Publisher
Servicio de Publicaciones de la Universidad Complutense de Madrid
Abstract
Se estudian los materiales que forman la base de la transgresión del Cretácico superior en la zona Atienza-Sigüenza. Se han encontrado Chofiatticeras discoidale, Ch, segne, Ingridella sp Jeanrogericeras combesi y Mammites nodosoides del Turoniense inferior-medio (zonas III, IV y V) que permiten establecer para esta región una biozonación basada en especies poco frecuente en el País Vasco y la región de Soria.
The basal sediments of the Upper Cretaceous in the Atienza-Sigüienza area are studied in this note. Choffaticeras discoidale, Ch. Segne, Ingridella sp, Jeanrogericeras combesi and Mammttes nodosoides of Lower-Middle Turonian Age (Zones III, IV, V) have been found and a biozonation by means of rare Ammonites of the Basque Country and Soria region has been established.
Collections