Publication:
Identificación del Autuniense en la rama aragonesa de la Cordillera Ibérica (Provincia de Soria)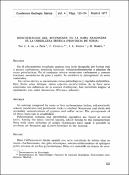 Advisors (or tutors)
Editors
Publisher
Servicio de Publicaciones de la Universidad Complutense de Madrid
Abstract
En el afloramiento estudiado aparece una serie integrada por lutitas más o menos carbonosas, areniscas arcósicas voleanosedimentarias y pasadas de rocas piroclásticas. En el conjunto existen numerosos carboneros y concentraciones secundarias de yeso y azufre. Se establece la petrogénesis de estos materiales. En varios niveles se encuentran restos palinológicos y vegetales indentificables. Entre estos últimos, varias especies características de la flora euroamericana con influencia de la asiática (Cathaysia), han permitido asignar al yacimiento una edad Autuniense (Pérmico inferior).
An outcrop composed by more or less carbonaeeous lutites, volcanoelastie arkosic sandstones and piroclastie rocks is studied. Numerous coal sheds and secondary concentrations of gypsum and sulfur occur. The petrogenesis of alí [bese materials is established. Palynological remains and identifiable vegetables are found at several levels. Among the latter, several species, which belong to the euroamerican flora with some influenee of asiatie (Cathaysia) have made it possible to attribute an Autunien age (Lower-Permian) to the outerop.
Collections