Publication:
Formación en Química Sostenible y su relación con los Objetivos de Desarrollo Sostenible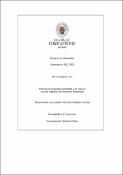 Advisors (or tutors)
Editors
Abstract
En el proyecto se propone la realización de trabajos en grupo dirigidos a los alumnos de Química General de 1º en los que se desarrollen los principios de la Química Sostenible y se relacionen con los Objetivos de Desarrollo Sostenible. Las mejores presentaciones serán grabadas en video para su difusión.
The project proposes group work for 1st year General Chemistry students in which the principles of Sustainable Chemistry are developed and related to the Sustainable Development Goals. The best presentations will be recorded on video for dissemination.