Publication:
Robótica y Transformación del Empleo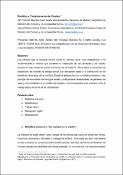 Advisors (or tutors)
Editors
Abstract
Los efectos que la robótica tendrá sobre el empleo serán muy importantes y se incrementarán a medida que aumente la interacción de las personas y los robots, aunque no hay consenso sobre el alcance de los mismos. Se analiza la capacidad de adaptación del modelo de trabajo actual a la disrupción digital y la distribución de los beneficios derivados de la robótica. Desde la perspectiva de la robótica inclusiva, y del principio de innovación tecnológica social y jurídicamente responsable, se plantean los retos y oportunidades en el ámbito del empleo y de la ocupación para avanzar hacia el trabajo digno en la era de la robotización.
The effects that robotics will have on employment will be very significant and will increase as the interaction between people and robots improves, although there is no consensus on the extent of these effects. The adaptability of the current work model to digital disruption and the distribution of the benefits of robotics are analysed. From the perspective of inclusive robotics and the principle of socially and legally responsible technological innovation, the challenges and opportunities in the field of employment and occupation are discussed. Moving towards decent work in the age of robotisation.