Publication:
Causas económicas, técnicas, organizativas o de producción que afectan a la relación laboral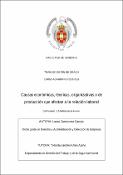 Authors
Advisors (or tutors)
Editors
Abstract
La crisis económica más reciente (2007) en España hizo temblar las estructuras del mercado de trabajo, el cual se vio afectado en gran medida por su incesante tasa de parados en aumento. Uno de los motivos se cree que fue la elevada flexibilidad externa, por lo que con la Reforma Laboral en 2012 se incorpora un nuevo modelo de relaciones laborales que favorece, esta vez, la flexibilidad interna. Con tales medidas el objetivo que se pretende es el de poner como último recurso al despido, alentando así a tomar otra serie de medidas al empresario. La exigencia para poder tomar tales decisiones es la de la concurrencia de unas causas económicas, técnicas, organizativas o de producción. Pero además es preciso tener en cuenta la existencia de unos procedimientos legales y de una serie de efectos que acarrearían.
The most recent economic crisis (2007) in Spain shook the labour market structures, which was affected mainly by its continuously rising unemployed rate. One of the reasons is because of the external flexibility, that is why in the Labour Reform in 2012 appears a new way of labour relationships which encourage the internal flexibility. The goal is to put firing as the last resource to take, encouraging businessmen to take another ways. In order to follow these other ways it is needed to have some economic, technical, organizational or productive causes. Besides, there are some procedures and effects to take into account.