Publication:
API de servicios web orientados a accesibilidad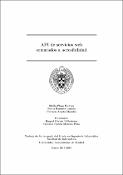 Advisors (or tutors)
Editors
Abstract
Hoy en día vivimos en una sociedad en la que las tecnologías son accesibles para gran parte de la población y las cuales tienen como finalidad, entre otras cosas, facilitar la vida de las personas en la medida de lo posible. Este proyecto busca hacer uso de esas tecnologías para facilitar la accesibilidad a textos para cualquiera que pueda tener dificultades con ellos, en mayor o menor medida. La finalidad de nuestro proyecto no es crear la aplicación para el uso directo de las personas sino desarrollar los servicios, y el acceso a los mismos, que faciliten la implementación de estas aplicaciones. Aún así en este proyecto se crea una aplicación de ejemplo para Android, en la cual se hace uso de los servicios como muestra de un posible uso de los mismos. Para facilitar el acceso a estos servicios y la comprensión de los mismos, en este proyecto se crea también una API web en la cual quedan todos ellos explicados, como acceder a ellos, su descripción, ejemplos de llamadas y de resultados de las llamadas, en definitiva, todo lo que pueda ayudar a un desarrollador interesado en ellos a utilizarlos sin mayor problema. Las aplicaciones posibles de estos servicios son de lo mas extensas. Así, por ejemplo, en un dispositivo móvil, si un usuario está leyendo un libro y no entiende una palabra o le resulta bastante complicada, tan solo tendría que sacar el móvil, introducir la palabra en una aplicación que llamara a uno de nuestros servicios y obtener el resultado requerido de esa palabra, de forma rápida y cómoda. El proyecto queda dividido en tres partes: el desarrollo de los servicios de accesibilidad, la web de la API explicando cada uno de estos servicios y una aplicación Android de ejemplo de utilización.
Nowadays we live in a society in which technologies are accessible for most of the people. These technologies have as a goal, mostly, helping people. This project's goal is to use those technologies to make texts more accesible for whoever may have difficulties with them. This project goal is not develop an aplication which makes the accesibility to texts easier, but to create the services that can help to develop those kind of aplications. However, we have developed and example aplication. To ease the access and undertanding of those services, this project creates an API that explains each one of them, as well as their description, examples, and everything a developer might need if he is interested in using them. There are plenty of possible aplications of these services. For example, if a user has a mobile device, and he or she is reading a book and there is a word that is not easy to understand, he or she would just have to take the device, introduce the word in the aplication that is using our services, and will have the result in a easy and fast way. This project is structured in three parts, the development of the accessibility services, the API explaining each one of these services, and an Android application as an example of how to use them.
Description
Trabajo de Fin de Grado en Ingeniería Informática (Universidad Complutense, Facultad de Informática, curso 2015/2016)