Publication:
System to predict bipolar disorder crises analysing massive data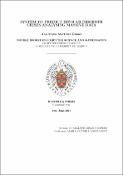 Files
Authors
Advisors (or tutors)
Editors
Abstract
Durante el desarrollo del proyecto he aprendido sobre Big Data, Android y MongoDB mientras que ayudaba a desarrollar un sistema para la predicción de las crisis del trastorno bipolar mediante el análisis masivo de información de diversas fuentes. En concreto hice una parte teórica sobre bases de datos NoSQL, Streaming Spark y Redes Neuronales y después diseñé y configuré una base de datos MongoDB para el proyecto del trastorno bipolar. También aprendí sobre Android y diseñé y desarrollé una aplicación de móvil en Android para recoger datos para usarlos como entrada en el sistema de predicción de crisis. Una vez terminado el desarrollo de la aplicación también llevé a cabo una evaluación con usuarios.
During the development of this project I learnt about Big Data, Android and MongoDB while helping to develop a bipolar crises-prediction system by analyzing massive quantity of data from diverse sources. Concretely, I did a theoretical part about NoSQL database, Streaming Spark and Neural Networks and then I designed and configured a MongoDB database to be used in the bipolar disorder project. I also learnt about Android and designed and developed an Android mobile application to collect data to be used as an input in the crises-prediction system. I did usability testing upon completion of the project too.
Description
Trabajo de Fin de Grado en Ingeniería Informática y Matemáticas(Universidad Complutense, Facultad de Informática, curso 2015/2016)