Publication:
Entamoeba histolytica: influencia de la respuesta inmunitaria en la virulencia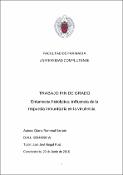 Authors
Advisors (or tutors)
Editors
Abstract
Entamoeba histolytica es un protozoo parásito que infecta al 10% de la población mundial dando lugar a 40.000-100.000 muertes al año por disentería amebiana y, menos frecuentemente, amebosis extraintestinal. El hospedador desarrolla una respuesta proinflamatoria excesiva e ineficaz una vez que el parásito entra en contacto con las células del mismo, lo cual causa daño tisular y ocasiona la patogenia de la enfermedad. Dentro de la respuesta inmunitaria del hospedador nos encontramos con la respuesta innata donde destacan los neutrófilos, los macrófagos y el complemento; y la adaptativa con la IgA y las células T (fenotipo Th1). Sin embargo, E. histolytica escapa de la respuesta inmunitaria del hospedador a través de diversos mecanismos. Uno de los más destacados es la adherencia, que induce múltiples efectos citotóxicos que pueden promover la muerte celular a través de la apoptosis, fagocitosis o trogocitosis, que pueden jugar un papel crítico en la evasión de la repuesta inmune.
Entamoeba histolytica is a protozoan parasite that infects 10% of the world's population resulting in 40,000-100,000 deaths per year from amoebic dysentery and, less frequently, extraintestinal amebiasis. The host develops an excessive and ineffective proinflammatory response when the parasite contacts with the host cells. That causes tisular damage and participates in disease pathogenesis. Within the host immune response we find the innate response which includes neutrophils, macrophages and complement; and the adaptive response with IgA and T cells (Th1 phenotype). However, E. histolytica escapes host immune response by several mechanisms. One of the most important is the adherence, that induces multiple cytotoxic effects which can promote cell death through apoptosis, phagocytosis or trogocytosis, which may play a critical role in immune evasion.